International Labour Organisation says Qatar does not properly inspect migrant workers' conditions despite signing convention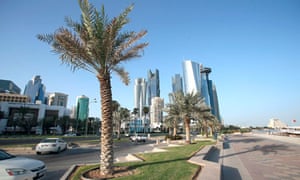 Qatar is failing to fully implement an international convention banning the use of forced labour ahead of the 2022 football World Cup, the United Nations' International Labour Organisation (ILO) has warned.
Azfar Khan, the ILO's senior labour migration adviser in the Arab states, told the Guardian that despite pledges to do otherwise Qatar did not properly inspect workplace conditions and there was "no coherence" in the state's policies over the use of migrant labour.
"The onus is on the Qataris if they have ratified the convention to better implement it," he said. "Many of the abuses that take place which can lead to forced labour are still happening."
Qatar became a signatory to the ILO convention on the abolition of forced labour in 2007.
The ILO's criticism follows the Guardian's exposure of 44 deaths among Nepalese workers from 4 June to 8 August and warnings from unions that more than 4,000 migrant workers could die between now and 2022 unless punishing working schedules and squalid living conditions are radically overhauled.
There are already an estimated 1.2 million migrant workers in Qatar, mostly builders, and the country is expected to ship in at least 500,000 more as construction accelerates in preparation for the world's biggest sporting event.
On Friday, the international footballers' union, Fifpro, said it was "deeply alarmedby reports of the brutal exploitation of migrant workers by construction companies in Qatar who are involved in building the stadia that Fifpro members will be expected to play in".
The umbrella organisation for players' unions, which represents more than 50,000 footballers around the world from Lionel Messi to Wayne Rooney, called for independent workplace experts appointed by Fifa and the ILO to be given access to all sites and powers to make binding recommendations to ensure international labour standards are respected in Qatar.
"If these reports are true, then football must act," said Brendan Schwab, the chairman of the Asia division of Fifpro. "It is inexcusable for workers' lives to be sacrificed. Fifa has previously acted to ensure international labour standards are respected when it worked with the ILO in the fight against child labour in the manufacture of footballs. A similar initiative is urgently needed in Qatar."
The ILO has previously sent high-level missions to address workplace deaths, such as when the Rana garment factory collapsed in Dhaka in April claiming 1,127 lives.
As well as regular deaths from workplace accidents and heart failure, the Guardian reported that migrant workers in Qatar had been denied access to free drinking water in extreme heat, had been unpaid for months and had had their passports confiscated to prevent them from leaving the country – in effect enslaving them.
The ILO's criticism is significant as Khan has been working closely with the Qataris for the past two years and Qatar's 2022 organising committee has said it enjoys "an open channel of dialogue with the ILO on these issues".
The UN organisation was invited to assess the country's labour practices when it secured the 2022 World Cup. Khan found that while the written laws were largely adequate, in practice there was no proper schedule of building site inspections, no consistent paperwork containing criteria by which to assess conditions and inspectors were not properly trained.
The International Trade Union Confederation has calculated that about 400 Indian and Nepali migrant workers die in Qatar every year and the toll could rise to at least 600 a year as more migrants arrive to help build 12 football stadiums, additional hotels, new rail and subway networks, and a new city to house 200,000 residents, all at a cost expected to exceed $100bn.
The British law firm Leigh Day is taking steps to bring legal actions in the London courts against any UK firms found to be working on construction projects where labour laws are being breached.
"We are investigating a number of construction projects in Qatar where it is alleged abuses of migrant workers have taken place," said Nichola Marshall, a lawyer at the firm. "A key concern is to what extent UK contractors and consultants are involved in those projects."
Many leading British architects have produced stadium designs for Qatar that are yet to begin construction. Lord Foster's firm drew up concept plans for the 86,000-seat Lusail stadium, which will host the World Cup final. Zaha Hadid has been appointed to design the al-Wakrah stadium. Foster's firm declined to comment on labour conditions in the state while Hadid's office did not respond to questions.
A key reason for Qatar's alleged failure to meet its international obligations is the system of "kafalah" that requires foreign workers to be sponsored by an individual to work in Qatar, the ILO believes.
It translates as "adoption" or "guardianship" and historically referred to Arab principles of hospitality where foreign visitors would come under the protection of their hosts. In a globalised labour market it has come to mean a system where passports, and sometimes wages, are withheld by employers, making it impossible for workers to leave while workers are charged fees as high as $3,500 to obtain a visa from the "kafeel" or sponsor.
Sources who have investigated Qatar's labour markets told the Guardian hundreds of unlicensed labour agents were operating in the emirate supplying workers from their home countries – largely Nepal and India.
They interact with another layer of middlemen – the sponsors or kafeels who are able to supply work visas. It is understood that some labour agents pay kafeels as much as $500 per visa, in effect a kickback from the fee the labour agent charges the worker for their visa, which the worker raises by borrowing or selling assets in their home country.
"As far as the ILO is concerned, it is untenable in the context of modern labour standards," Khan said.
He added he was worried about a lack of "coherence in terms of policy" and ambiguity over whether the ministry of labour is overseeing work conditions on pre-World Cup projects or whether it is the supreme committee of Qatar.