A lot of Americans dream of living and working overseas, but only a handful ever actually go for it. They're tempted by adventure, the chance to experience exotic cultures, and the opportunity to leave their old lives behind. But in the end, moving just seems too hard.
As many an experienced expat will tell you, though, relocating abroad can be surprisingly easy if you choose the right destination. There are a variety of factors that lend to a smoother transition — no language barrier, job availability, lax visa restrictions, and so forth. We took those factors into consideration to determine the 12 places where Americans looking to expatriate will find the warmest welcome.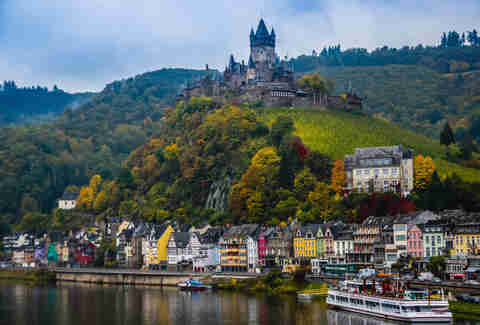 Germany
One of the strongest economies in the European Union, Germany is hiring. In fact, it's tied with Singapore as the top destination for international work transfers. English is widely understood, and the country is renowned for its high standard of living. What's more, it offers one hell of a nightlife.
Where to find work: Pharmaceuticals, IT, renewable energy, and biotech.
Canada
Obviously, this seems like kind of a "duh" inclusion, but our northern neighbor is an excellent destination for any American who wants to move to a new country, but doesn't necessarily want to cope with culture shock. Canadians are generally a friendly folk, eh, and the quality of life there ranks among the highest in the world. Plus, you can either go either English or French (we've got you covered in either Toronto or Montreal), depending on how much you're looking to mix things up.
Where to find work: Oil, fishing, and financial services.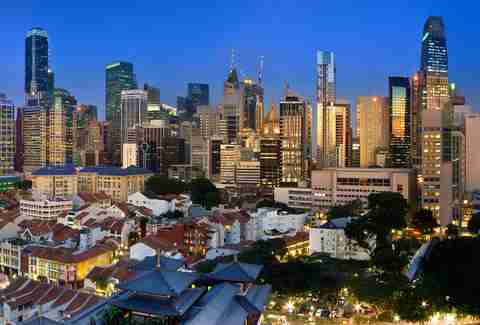 Singapore
As one of the world's leading financial centers and ports, Singapore is doing big business. So much, in fact, that it tops the list of "most millionaires in the world." That means that businesses are expanding, and jobs are available. You'll also find that the people are generally pretty open to Western ideas and influences, and English is commonly spoken.
Where to find work: Finance, insurance, biomedicine, tourism, tech, and engineering.
Switzerland
For many, Switzerland is something of an expat paradise. Winter sports in the picturesque Alps, delicious food, nice (albeit slightly reserved) people, outstanding healthcare, and a central European location makes it a dream destination. Not only that, but one-fourth of expats living there earn $200,000+ annually. And while Switzerland may be expensive, its expat community will tell you that the benefits far outweigh the costs.
Where to find work: It can be difficult for foreigners to find work in Switzerland, because in order to get a residence permit you must prove that you will work a position that cannot be filled by a national. That said, IT, biotech, and finance are the places to look.
Australia
Once many Americans experience living and working in Australia, they find it hard to leave. Even if there are a million things there that will kill you. That's because the outstanding quality of life, friendly people who curse like this, gorgeous weather, and wealth of entertainment make the easy job market feel like a mere perk. And the jobs are there. In Sydney alone, you'll find the base of operations for four of the 10 highest earning corporations in the world, along with the offices of more than 500 multinational corporations. To earn big and get a tan, head Down Under.
Where to find work: Mining, construction, engineering, IT, and finance.
New Zealand
Widely known as one of the best places in the world to bungee jump and shear sheep (no?), New Zealand boasts a low crime rate, high standard of living, and some of the most beautiful landscapes on the planet. Oh yeah — Flight of the Concords and Lord of the Rings, enough said.
Where to find work: Agriculture, tourism, and business services.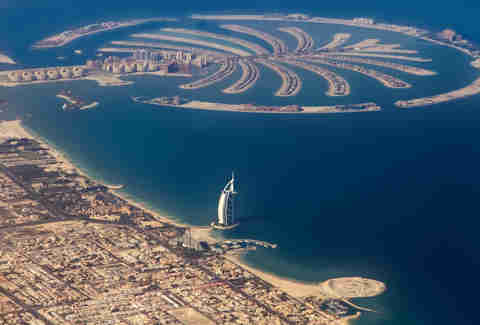 United Arab Emirates
This wealthy nation is, not surprisingly, famous for its high-paying jobs. While it is a popular destination for mostly young expats, the UAE is a conservative country with strict codes of public conduct. This combined with a rather difficult language makes it hard for some people to integrate.
Where to find work: Construction, engineering, real estate, and finance.
The Netherlands
With Amsterdam poised as one of the world's central hubs of finance, international business, and weed, the Netherlands attracts more expats than almost any other country. With a high standard of living, common use of English, and friendly people who will totally have sex with you for money, Americans find it easy to get along there. It's also located right in the middle of Europe, providing quick access to some pretty sweet vacation spots.
Where to find work: Finance, food processing, chemicals, and oil.
Ireland
The tech boom in Dublin has positioned Ireland as one of the leading destinations for globe-trotting techies. Between its proximity to Continental Europe, outstanding work benefits, low crime rate, great healthcare, raucous nightlife, and of course, all the Guinness you can drink, people love living in Ireland. You do, however, have to get used to the damp weather. And people rolling their eyes when you go on about how your family was originally from Cork. Sigh.
Where to find work: Tech, finance, healthcare, and medical research.
Spain
From the food, weather, and welcoming culture, to the laid back living (can you say siesta?) and cheap wine, once you've lived in Spain, you'll find it difficult to imagine living anywhere else. There's only one problem — massive unemployment. Finding a job is well-nigh impossible, outside of teaching English. Fortunately, the government has a program that takes more than 1,000 Americans to teach English every year. Otherwise, if you can launch your own business, you'll find that getting residency is a breeze. And once you're settled, it's an incredibly inexpensive — not to mention beautiful — place to live.
Where to find work: You won't, so start something yourself. Teaching English, perhaps?
Hong Kong (China)
OK, OK, it's not a country, but Hong Kong's different from the rest of China, and it's considered by some to be the best place for Americans looking to expatriate. High salaries, an intriguing culture, and a thriving expat social scene make it easy to have fun. It's also easy to find work, as it's home to the largest concentration of corporate headquarters' in all of Asia.
Where to find work: Banking and finance.
United Kingdom
About as obvious a choice as Canada, the UK is one of the easiest places in the world for Americans to fit in. London is arguably the most important financial center in the world, rivaled only by New York, meaning that there's a whole lot of business going on, which results in plenty of work. While London is the primary destination for expats moving to the UK, it is an expensive place to live, so you'd better make sure you have your job all lined up. Or settle down in one of these eight lovely villages.