Ukraine news live: Putin hits out at West's 'invasion plan' as he addresses Russian nation on Victory Day
Ukraine latest as Russia marks Victory Day, with Vladimir Putin condemning the West for planning, he says, "the invasion of our land"; evacuees rescued from Mariupol's Azovstal arrive in Ukrainian-held territory; Bono and the Edge perform a surprise gig in Kyiv.
Analysis: A no-show from top Russian army official
Ukraine will be most interested in what was not said when Vladimir Putin spoke at Russia's annual Victory Day parade rather than his actual words, writes our security and defence editor Deborah Haynes.
The apparent absence from the pomp and ceremony of General Valery Gerasimov, the head of the Russian armed forces, will also be of note given the 9 May spectacle on Red Square is the most important date in the military calendar.
Ukrainian officials and their Western allies believe Mr Putin had been planning to use today's ceremony as a moment to celebrate a great triumph from his war in Ukraine with the collapse of the government in Kyiv and the installation of a pro-Moscow regime. However, that aspiration failed in the first weeks of the invasion when Russian forces were pushed back from an attempt to storm the capital.
Some officials had wondered whether Mr Putin would talk up limited gains by his forces in the south and east of Ukraine. There was also the chance he could declare Russia is at war with its neighbour, ditching the description of "special military operation", and order a general mobilisation.
Instead, there were no such new announcements – just a doubling down on his old positions and without any new, overt threats against the West.
Mr Putin repeated his false justifications for sending Russian forces to fight and die in Ukraine on 24 February, accusing the Ukrainian government as well as the US and its NATO allies of being the aggressors and an existential threat to Russia's security.
And Mr Putin paid his respects to all those Russian troops who had died in Ukraine, though he never referred to the country by name.
His words about Russia's actions contrast depressingly starkly with the reality on the ground, where his soldiers are accused of war crimes, including mass murder, torture and rape.
Away from the language, the apparent absence of General Gerasimov from the Victory Day ceremony was widely observed over social media given that the chief of staff of Russia's armed forces is typically an important participant on display.
Unusually for Russia's most senior officer, he had taken the dangerous decision to travel to frontline positions in Ukraine last week.
It was interpreted by Western officials as further evidence that Russia's war is not going to plan and that he was trying to regain some momentum, though the Western officials said that they had seen no evidence to confirm reports he had been injured during the visit.
Whatever the reason for the apparent no-show, General Gerasimov might well be feeling under pressure for the – albeit not publicly acknowledged – failings so far of Russia's war.
Ship loaded with Russian coal docks in Spanish port
A Maltese-flagged ship appears to have contravened sanctions imposed by the European Union on Russian imports.
The ship docked in the northern Spanish port of Gijon and was carrying Russian coal and petroleum coke, port authorities said.
It follows another ship docking in southern Spain with Russian crude on Friday.
The EU has approved sanctions against imports of coal, wood, chemicals and other products such as vodka from Russia since 8 April.
The sanctions were imposed in response to Russia's invasion of Ukraine, although they are not yet fully enforced.
Victory Day in Moldova reveals support for Russia
By Adam Parsons, Europe correspondent in Chisinau
We've spent the morning following the Victory Day parade through the Moldovan capital, Chisinau. Thousands joined the march under blue skies.
Plenty brought framed photos of family members who fought in the Second World War, but what we also saw were plenty of signs of nostalgia for the Soviet Union and sympathy with modern-day Russia.
Flags with the hammer and sickle were flying along the length of the parade. Then there were the orange and black colours of the Russian St George's ribbon – banned by the Moldovan government because, they claim, it legitimises Russian aggression.
But here we had hundreds pointedly wearing the colours or even simply wearing the ribbon, in defiance of both government and police. They said they would arrest anyone who defied the ban, but I didn't see that happen.
I did, however, see Moldovan MPs, from Socialist and Communist parties, wearing the ribbon right at the front of the parade. One man told us Russia was right to invade Ukraine. Another said the country did need denazifying, and that Europe was always safer when Russia was strong.
All this matters because, an hour's drive from the capital, sits the breakaway region of Transnistria, run by pro-Russian separatists. There are plenty who suspect that Russia's next plan is to conquer southern Ukraine and drive a land link between Russia and Transnistria. If that were to happen,  Moldova would become Europe's next tinderbox.
Russian troops carry ribbon through Mariupol
Ukrainian journalist Vitalii Rybak has shared footage purporting to show Russians carrying a 300 metre-long ribbon, the orange and black colours of the Russian St George's ribbon, through Mariupol.
Today is Russia's Victory Day, an annual commemoration of the defeat of Nazi Germany.
Russia has been equating the Second World War with the current war in Ukraine, claiming it is trying to "denazify" its neighbour.
The port city of Mariupol is now largely under the control of Russian forces, although Ukrainian soldiers remain in the Azovstal steelworks.
Vladimir Putin had been hoping to take the complex ahead of Victory Day, but has been unsuccessful.
Analysis: Why Putin may have chosen not to announce full mobilisation
By Diana Magnay, Moscow correspondent
No grand announcements, no unexpected declarations. In the absence of any actual victory on the battlefield, this was really the best that Vladimir Putin could do at this year's Victory Day parade, overshadowed as it is by the horrors in Ukraine. Claim self-defence, assume the moral high ground and label NATO the aggressor as he has done many times over the past few months.
Victory Day is first and foremost a commemorative holiday for the people of Russia. For the commander-in-chief, it is a moment to reassure them that the cause in Ukraine is a noble one rather than instil fear that their sons might be drafted. If mobilisation happens, and there are plenty of rumours that it will, that's best saved for another day when Russian families aren't celebrating what really is thought of as a "sacred" holiday in the Russian calendar.
Mobilisation also won't necessarily tip things the way Russia wants them to go. Sending in hastily trained men with little military background could be more of a curse than a blessing. Defining this as a "special military operation" rather than an actual conflict gives the Russian people the impression that it is short, sharp and targeted. They can worry about their own lives because this will all be over soon, or so the logic goes.
But will it? That is the eternal question, burning as bright as the eternal flame at the many Tombs of the Unknown Soldier in all the countries which fought and in the last century's horrific World Wars. Always a reminder, as they should be, of how much is at stake now.
Satellite images show school destroyed by airstrike
Some 60 people are thought to have been killed after a Russian airstrike hit a school in Bilohorivka in Ukraine's Luhansk region on Saturday.
Satellite images taken by Planet Labs PBC now show the school has been flattened.
The first image was taken before the attack, while the second was taken afterward. The school can be seen on the centre-right of the first photo.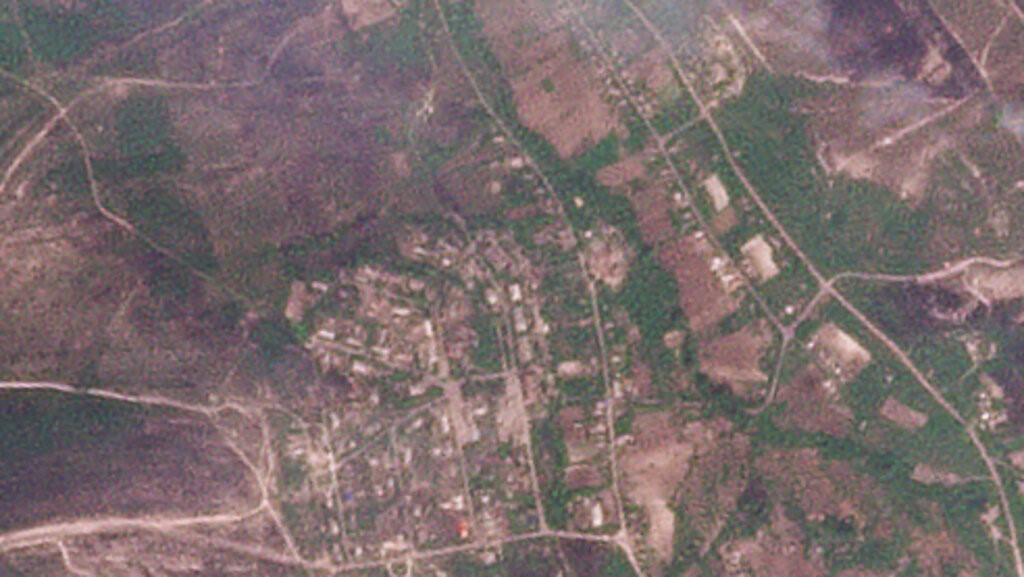 Defence secretary accuses Putin of 'mirroring the fascism and tyranny of 70 years ago'
Britain's Ben Wallace has said Vladimir Putin is dishonouring Russian soldiers who fought to defeat the Nazis.
In a speech on Russia's Victory Day, the defence secretary said Mr Putin and his inner circle were "mirroring the fascism and tyranny of 70 years ago".
"Really what President Putin wants is the Russian people and the world to be awed and intimidated by the ongoing memorial to militarism," he said.
"I believe the ongoing und unprovoked conflict in Ukraine does nothing but dishonour those same soldiers.
"Russia's general staff are failing and they know it."
He added that Western countries are gathering information on potential war crimes in Ukraine, saying it will be used to "hold to account all those responsible for these atrocities".
"We are watching and we are recording," he said.
Air raid sirens heard in Kyiv
Just as Moscow held its Victory Day parade, air raid sirens were heard in Ukraine's capital Kyiv.
The Ukrainian military has also said four missiles hit the port city of Odesa in the last few minutes.
Four 'high precision' missiles hit Odesa area – Ukrainian military
Ukraine's military has said four high-precision Onyx missiles, fired from the Russian-controlled Crimea peninsula, have struck the Odesa area in southern Ukraine.
There are no further details as yet.
Watch again: Scenes from Moscow's Victory Day parade
In case you missed it in the last hour, soldiers took to the streets of Moscow and crowds cheered to commemorate Russia's Victory Day.
Those gathered heard a speech from President Vladimir Putin, who accused NATO of preparing to take land from Russia and tried to justify the invasion of Ukraine.
Victory Day in pictures
Victory Day commemorates the end of World War Two.
It is Russia's most important holiday and a source of national pride, marked by a huge parade of soldiers and military hardware through Red Square.
Earlier, Russian defence minister Sergei Shoigu was driven around the square, saluting troops.
Then President Putin took centre stage and told his armed forces they were fighting for their country now.
"You are fighting for our people in Donbas, for the security of our motherland, its future," he said.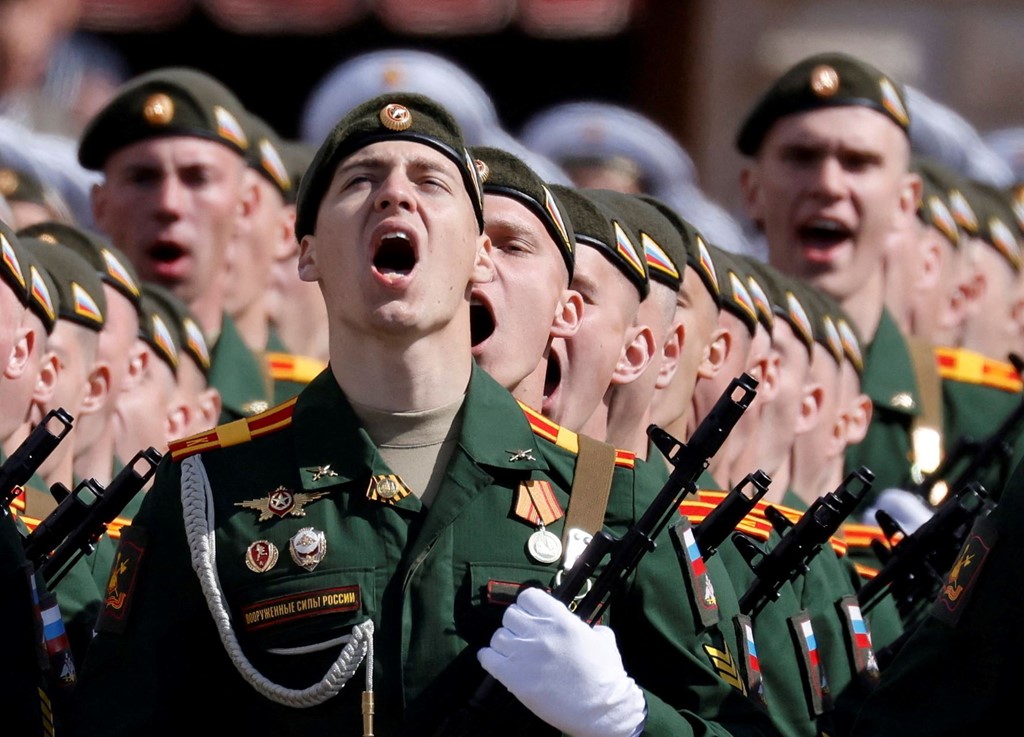 Putin lays a wreath at the Tomb of the Unknown Soldier
In a solemn moment, the Russian president laid a wreath at the memorial site.
Some 27 million Soviets (of course, this includes Ukrainians) were killed fighting Nazi Germany in what Russia calls the "Great Patriotic War".
Many still lie in unmarked graves.
Russian TV schedule reportedly hacked with reference to 'murdered Ukrainian children'
Images are circulating on social media this morning that indicate Russia's online TV schedule has been hacked.
On a day when the closely state-managed programming will be dominated by coverage of the aforementioned Victory Day celebrations, the name of every show was reportedly changed to "On your hands is the blood of thousands of Ukrainians and their hundreds of murdered children. TV and the authorities are lying. No to war".
Flyover cancelled in Moscow due to 'bad weather'
The flyover portion of the Victory Day parade in Moscow has been cancelled.
Russian news agency RIA quoted an official as saying it was stopped due to "bad weather".
However, footage from Moscow this morning appears to show blue skies…
Why Putin's speech was 'encouraging'
Russian President Vladimir Putin's performance at the Victory Day parade could be a sign there will be an end to this war, a top British diplomat has said.
Speaking to Sky News, former UK ambassador to Russia Sir Tony Brenton said Mr Putin had recently shown "disturbing signs" of "losing it".
But he said the speech today was "coherent" and a "very professional performance".
While Sir Tony said he did not agree with the message – which sought to justify Russia's invasion and hit out at NATO – he said it had "pushed all the right patriotic buttons in the Russian political atmosphere".
"It is rather encouraging that it leaves me with the feeling that we are dealing with a rational individual there with whom hopefully in time it will be possible to do a sensible deal to bring this whole mess to an end," he said.
Our defence analyst Lord Dannatt agreed, saying the issue of Mr Putin's rationality is incredibly important.
"The Cold War and the nuclear standoff during the Cold War worked because both sides were rational. Both sides understood the catastrophic consequences of the use of nuclear weapons. So they didn't do it," he said.
He added: "It's the irrationality of the potential craziness of Putin that is the real worry, particularly if he's not well. Now, he looks pretty healthy to me this morning."
Putin's comments on NATO 'predictable'
Former chief of the general staff and Sky News defence analyst Lord Dannatt says the suggestion by Vladimir Putin in his speech that NATO is the aggressor was "predictable".
He said it was likely that the Russian leader "would try to frame it like that and to try to get over to his own people that this isn't a war of aggression".
Lord Dannatt added that Mr Putin's message to the Russian people is that it is an "important and necessary defensive operation, to show to the people of Russia that he is a great leader and he is going to defend their values".
It is "therefore to show that the Ukrainian dissidents, as (Putin) would like to portray them in the Donbas, were planning with NATO support – with Western support – to effectively make an incursion to attack Russia", he added.
Lord Dannatt said there had been "no mention of the failed operation around Kyiv".
Nor was there any reference to ramping up the war, or to a general mobilisation among the Russian population.
As we reported here on Friday, one expert had suggested that the latter was possible – and that it could potentially have led to a revolution in the country.
Putin makes rare acknowledgement of military losses
Although some had feared the Russian president would announce a full mobilisation of troops in his Victory Day speech just now, it didn't happen.
Nor was there any great declaration of victory, as some had anticipated.
Vladimir Putin did reference Russian military losses, however, holding a minute of silence for fallen soldiers.
The president said there would be support available for the children of soldiers killed in Ukraine – a rare acknowledgment of Russia's losses.
Putin accuses West of 'preparing an invasion on our land'
In a speech marking Russia's Victory Day, President Vladimir Putin has hailed the Soviet Union's "triumph" over Nazi Germany.
He says it was an "unprecedented feat of heroism" and that Russia must ensure the "horror of a global war will never be repeated".
But he hits out at NATO countries, saying Russia had tried "in vain" to compromise on security issues.
"NATO countries didn't want to hear us… this means that in reality they had quite different plans," he says.
He accuses it of "openly preparing another punitive operation" in Ukraine's Donbas region and says there is an "unacceptable threat to us right at our borders".
He accuses the West of "preparing for the invasion of our land, including Crimea" – an area of Ukraine that was annexed by Russia in 2014.
The war on Ukraine was a "preventative strike against the aggressor", he says.
He ends the speech with the words: "Glory to our glorious armed forces, for Russia, for victory! Hooray!"
There had been fears the Russian president could officially declare war on Ukraine – prompting a full mobilisation of reservists and allowing conscription – but Mr Putin did not go there.
Russian President Vladimir Putin is speaking now
Could Putin officially declare war on Ukraine?
There is speculation that Vladimir Putin could official declare war on Ukraine and announce some form of general mobilisation in his upcoming speech.
Our defence analyst Lord Dannatt says he will be "surprised" if Mr Putin does this now.
"Having said that, I've been surprised by virtually everything he's done over the last three months or so.
"But given that they've done so badly, why would you double down and make things worse?"
He says that Russian forces will likely continue trying to take the eastern Ukrainian provinces of Luhansk and Donetsk.
He continues: "I think he's probably going to make a calculation that seeing how appallingly badly his military has done up to now, that's probably about as far as they can go."
Victory Day celebrations have begun in Moscow
Soldiers are parading through Red Square, holding Russian flags and wearing military uniform.
A large crowd is lining the streets of Moscow.
Vladimir Putin is expected to speak soon. You can follow updates here and watch in the stream above.
Listen to the Sky News Daily podcast: Putin, Russia, and Victory Day
Russia's traditional 9 May Victory Day parade commemorates the surrender of Nazi Germany in the Second World War and is where Moscow's leaders flaunt their strength and military might. But how does it all look since Russia's invasion of Ukraine?
On the Sky News Daily podcastwith Niall Paterson, our international affairs editor Dominic Waghorn explains the context of Victory Day, plus Professor Sam Greene, head of the Russia Institute at Kings College London, talks of its significance to Putin.
Here's what's coming up throughout the day…
It's going to be an incredibly busy day today as Russia celebrates its annual Victory Day.
You can follow our live coverage here – here's what to look out for.
8am – Military parade starts in Moscow's Red Square. Vladimir Putin is expected to speak at the start of the proceedings.
9am – Mr Putin will lay a wreath at the Tomb of the Unknown Soldier.
In the UK, Defence Secretary Ben Wallace will make a speech at the National Army Museum.
1pm – Thousands of people are expected to take part in a memorial march in central Moscow, holding portraits of relatives who fought in the Second World War.
5.25pm – German Chancellor Olaf Scholz and French President Emmanuel Macron will hold a joint news conference.
8pm – Russia ends its celebrations with a fireworks show in Moscow.
Coming up… Watch live coverage of Russia's Victory Day celebrations at Putin set to give key speech
Make sure you're watching from 8am, as we follow Russia's Victory Day parade in Moscow.
The annual celebration marks the Soviet victory over the Nazis in the Second World War.
Russian President Vladimir Putin is expected to speak at the beginning about the war in Ukraine, in a speech that has made Western politicians and experts nervous.
They fear he could officially declare war in Ukraine – enabling full mobilisation – or announce victory in the country.
'Ukraine will not give anyone a single piece of our land': Zelenskyy gives Victory Day address
Ukrainian President Volodymyr Zelenskyy has appeared in a video marking Victory Day, where he said he has "no doubt" Ukraine will win against Russia.
Russia is holding its own Victory Day today and we are expecting to hear from Vladimir Putin in the next few minutes.
Ahead of Mr Putin's speech, the Ukrainian president shared the video of himself walking through Kyiv's main street.
He said Ukraine will "not give anyone a single piece of our land".
Referring to victory over Nazi Germany in the Second World War, he said: "We won then. We will win now too!"
Mr Zelenskyy added that Ukraine will soon see two victory days.
Watch: Inside the minds of people in Russia
Our correspondent Diana Magnay spoke to people in Yekaterinburg ahead of Russia's Victory Day to get an insight into what they are thinking.
While there were some die-hard patriots, others have spoken out against the invasion.
Nadezhda sewed up her mouth in protest and was later detained. She is now potentially facing losing custody of her child.
The first images from Russia on Victory Day
Children in military-style uniforms have been seen waving flags and people carrying images of Red Army soldiers in the first images we're getting from Russia today.
The country is celebrating its annual Victory Day, with Vladimir Putin set to give a speech later this morning.
These images are from Vladivostok, a major Pacific port city.
Russia using 'less reliable' and 'ageing' weapons
The latest update from the UK's Ministry of Defence has rejected Russian claims that Vladimir Putin's forces are making efforts to avoid civilian casualties.
Russia's stockpile of precision-guided munitions has been "heavily depleted" during the war, the MoD said.
"This has forced the use of readily available but ageing munitions that are less reliable, less accurate and more easily intercepted."
It said the war has "revealed shortcomings" in Russia's ability to conduct a large number of precision strikes, adding: "Russia has subjected Ukraine's towns and cities to intense and indiscriminate bombardments with little or no regard for civilian casualties."
Ukraine has reported civilian casualties from Russian fire each day.
Analysis: Could declaring war be Putin's 'death'?
By Dominic Waghorn, international affairs editor
Victory Day has an almost sacred place in the Russian calendar.  Russians no longer have ideologies to rally behind if they ever really did, after the passing of the Cold War. The country is huge, the world's largest and geographically and culturally disparate.  But its people can all agree on one thing: the importance of this day when they remember the fallen of the Great Patriotic War.
Not least because 27 million Soviet citizens, eight and a half million of them soldiers, died in the epic struggle against Nazi Germany. Every Russian family has a relative to remember.  And the national trauma forever seared the vulnerability of Russia's western flank to invaders for an entire nation, as the war with the French had in the century before.
But the parade this year of tanks, planes and soldiers will have another huge significance this year. Vladimir Putin faces a challenge and the world will be watching how he handles it.
He has told his people for years now they have the greatest army in the world. The men and material being paraded through Moscow each year, he says, are the envy of rival nations. They have weapons no one else has.
And he has told them that army is being used in a "special military operation" in Ukraine. But that operation has gone on now for two and a half months.  Russians will want to know what has been achieved. What is there to show for all the billions spent on Russia's new improved world-beating military in its first test of arms?
Journalist Mikhail Reuben of independent news website Proekt told Sky News that Mr Putin has made the memory of victory in the Second World War central to his rule.
"He never had any ideology at all – he is a classic populist. The only ideology that Russian authority had for the last 20 years was the victory over Nazism in 1945, which is really important for the Russian population."
Mr Putin has interwoven his war in Ukraine with Russia's war with Germany. The Russian security forces patrolling Moscow this year have the orange and black ribbon used in previous years to commemorate Victory Day sewn in the letter Z on their shoulders, the symbol of the Russian military in Ukraine.
Banners across the capital have the dates 1945 and 2022 emblazoned together.
So as they watch the parade and remember the glories and sacrifices of the past, Russians will have many reasons to wonder about what has been achieved in Ukraine.
"On the Victory Day he needs to say something about a victory," says Mr Reuben.  "I think that he will lie that the campaign goes very well because the people are waiting for a success because no one was expecting a long campaign at all."
Others expect Mr Putin to go further to up the ante and expand his war. He could officially declare war and announce a general mobilisation and put his country on a war footing. That though, say observers like Mr Reuben, would be fraught with political peril.
"It would be Putin's death if he says something about a huge campaign asking for the Russian population to take part in the war.  That would be absolutely different to what he said for the last few months. That would kill him."
How Putin's Victory Day speech could have been much different
As our security and defence editor Deborah Haynes points out, the Russian president's speech today could have looked very different.
Russia's original plan was to take Ukraine's capital, Kyiv, and remove the government.
But, as we look back on in this video, things did not end up going to plan for Russia.
Russia is marking Victory Day today – here's why it's significant and what it would mean if Putin 'declares war'
9 May is Victory Day in Russia – an annual commemoration of the defeat of Nazi Germany in 1945.
It is Russia's most important holiday and a source of national pride for the country, marked by a huge parade of soldiers and military hardware through Red Square.
But the backdrop this year is different. Russian soldiers are fighting in Ukraine, with ordinary Russians being told they are once again fighting against "Nazism".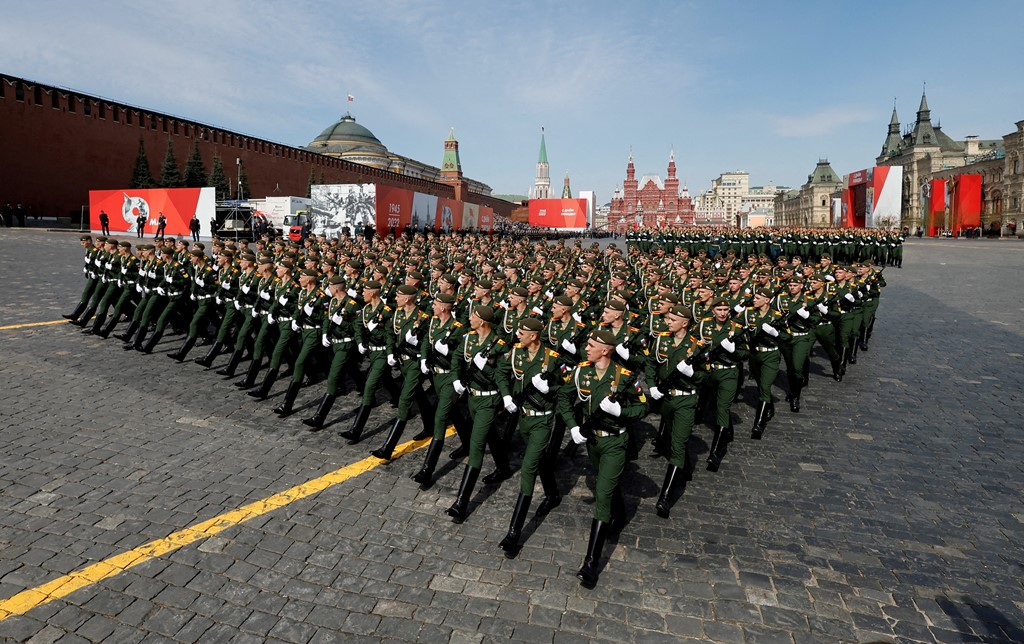 In the build-up to Victory Day, Russian President Vladimir Putin has been hoping for some form of victory in Ukraine. Troops have rushed to take Mariupol's Azovstal steelworks – the last holdout of Ukrainian resistance in the city – and have pummelled cities in Ukraine with intensified fire.
Some experts fear Mr Putin could use his planned Victory Day speech to officially declare war on Ukraine, bringing in a broad mobilisation of reservist troops not currently available to the "special operation". It would give him wider powers over the Russian population, including the authority to draft conscripts.
"I can't remember a time when the May 9 holiday was anticipated with such anxiety," historian Ivan Kurilla wrote on Facebook.
The Kremlin has denied having any such plans.
Meanwhile, human rights groups have reported a spike in calls from people asking about laws concerning mobilisation and whether they will be forced to join the military.
Other experts have suggested the Russian president could instead declare some form of "victory" in Ukraine. Although Russia has failed to capture any major Ukrainian cities so far, and have lost (according to the last Western estimates) around 15,000 soldiers, Russians are being fed an official narrative that appears far from the truth.
Concern over visa hold-ups for fleeing Ukrainian children
Visa applications for unaccompanied minors fleeing the Russian invasion of Ukraine have been paused by the UK government because it still has not decided how to deal with such applications, an immigration lawyer has said.
Current government advice for the Homes For Ukraine scheme says under-18s "must be applying as part of a family unit which includes their parent or legal guardian" to be eligible.
But this guidance did not appear on the gov.uk website until the middle of April, some weeks after the scheme went live on 18 March, leading to confusion and accusations of a "national scandal" that the Home Office had moved the goalposts.
Mala Savjani, an immigration solicitor for the charity Here For Good based at Wilson Solicitors LLP, told PA News agency: "We've been seeing applications from unaccompanied minors being paused and not decided, especially ones that were submitted in the second half of March and we would have absolutely expected decisions on those applications by now.
"It seems as though the Home Office is purposefully not making those decisions because they haven't actually decided how to deal with those applications."
A government spokesperson cited "safeguarding concerns" as the reason unaccompanied minors are not being approved for the scheme.
"Due to safeguarding concerns, unaccompanied minors are only eligible under the Homes for Ukraine scheme if they are reuniting with a parent or legal guardian in the UK," a statement said.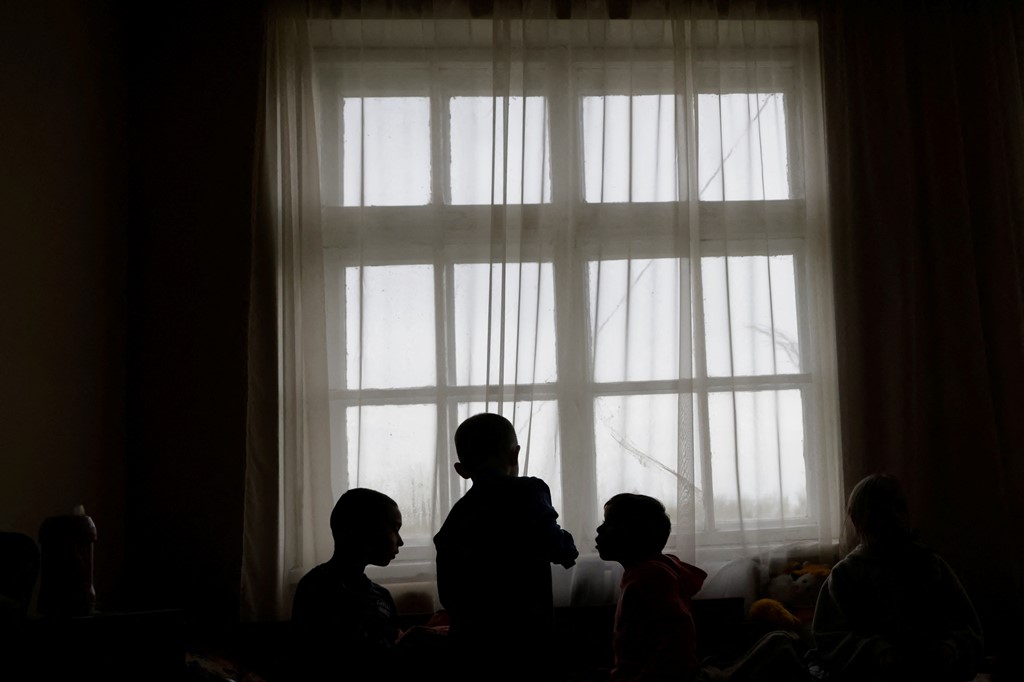 Russia 'no different from Nazis'
Ukraine's ambassador to the US laid a wreath at the Second World War Memorial in Washington DC, and told those gathered today's Russia was "no different" to the Nazis.
Oksana Markarova said: "Today Ukraine defends itself and democracy in the world from the Russian regime, which is no different from the Nazis neither in rhetoric and aggression nor in methods of war crimes."
Putin should 'share same fate as Nazis'
Russian military leaders are as much to blame for the Ukraine invasion as President Vladimir Putin and should face the consequences, says the UK.
In a major speech on Monday, Defence Secretary Ben Wallace will say the Russian president and his inner circle should share the same fate as the Nazis, who ended up defeated and facing the Nuremberg trials for their atrocities.
According to extracts briefed to the Telegraph and Times, Mr Wallace will say: "Through their invasion of Ukraine, Putin, his inner circle and generals are now mirroring the fascism and tyranny of 70 years ago, repeating the errors of last century's totalitarian regimes."
He will add: "Their fate must also, surely, eventually be the same."
UK announces fresh Russia sanctions targeting £1.7bn worth of trade
In a bid to "further weaken Putin's war machine", Britain has announced fresh sanctions targeting £1.7bn worth of trade with Russia. 
They include sharply higher tariffs on £1.4bn worth of imports from Russia and bans on exports to the country that are worth £250m a year.
The measures bring the total value of products subject to full or partial import or export sanctions since the invasion of Ukraine to more than £4bn.
Britain's sanctions would cause "significant damage to [Russian President Vladimir] Putin's war effort", said Chancellor Rishi Sunak as he unveiled the package along with Trade Secretary Anne-Marie Trevelyan.
Russia will only allow Ukrainian defenders to leave Mariupol steelworks as prisoners – Zelenskyy
Russia will only allow Ukrainian defenders to leave a besieged steelworks in the city of Mariupol if they can be taken as prisoners and then exchanged for Russian prisoners of war, the Ukrainian president has said.
Volodymyr Zelenskyy also said it was "impossible" for Ukraine to use military force for now to unblock the standoff at the Azovstal facility without more heavy weapons.
Mr Zelensky was responding to a question from Sky News about criticism raised by a fighter holed up at the plant, who accused the Ukrainian government of failing to defend Mariupol better at the start of the invasion. The fighter also asked for help, said he and his comrades would never surrender to Russia but said they also believed they would die.
"It is not possible to unblock the city of Mariupol by military means… This is impossible today," Mr Zelensky said.
"Ukraine does not have such heavy weapons to unblock Mariupol by military means," he added.
The president said the other option is diplomacy, speaking during a press conference on Sunday with Canada's Prime Minister, Justin Trudeau, who was on a visit to Kyiv.
Diplomatic negotiations led to what are said to be the last civilians – women, children and the elderly – being able to evacuate the Azovstal steelworks, where they had been sheltering before becoming trapped.
The sprawling plant is the last stronghold of Ukrainian resistance against Russian forces trying to take control of Mariupol – a once thriving city, turned to rubble by Russian bombardments, with tens of thousands of civilians killed.
"Russia will exchange the military [personnel] only if they are prisoners – for prisoners. Here is the situation. This is the answer from the Russian Federation," the Ukrainian president said, speaking through a translator.
US first lady Jill Biden in emotional embrace with Ukrainian counterpart Olena Zelenska
Earlier we reported that US first lady Jill Biden made an unannounced visit to western Ukraine, meeting with Ukraine's first lady, Olena Zelenska.
Touching images show the two women hugging, exchanging flowers and touring a school.
Evacuees from Mariupol's Azovstal arrive in Zaporizhzhia
A busy convoy of evacuees including those from Mariupol's Azovstal has arrived in Ukrainian-controlled Zaporizhzhia, according to the United Nations.
It said more than 170 people had been rescued by a joint UN and Red Cross operation.
The latest mission brings the total number of people evacuated from Mariupol to more than 600, the UN Office for the Coordination of Humanitarian Affairs (UN OCHA) tweeted.
UN coordinator in Ukraine Osnat Lubrani said on Twitter: "Our work is not yet done. I don't forget those who've been left behind."
Boris Johnson: Ukraine needs equipment 'not just to hold ground' but to recapture it
The Prime Minister Boris Johnson told G7 leaders that military equipment designed to help Ukraine hold ground was no longer sufficient, Downing Street has said.
He said the country needed military equipment to recapture ground too, according to his office.
Mr Johnson said there was a "savage irony" that the leaders had gathered to discuss Russian President Vladimir Putin's invasion just as many countries were commemorating the end of the Second World War.
Canadian PM Trudeau promises new weapons and support for Ukraine
The Canadian Prime Minister Justin Trudeau has today promised new weapons and military equipment for Ukraine.
He was speaking from the capital Kyiv during a surprise visit to Ukraine. Earlier he appeared in Irpin, northwest of Kyiv, the local mayor said.