Biography:
Nawal Al Zoghbi (born June 29, 1972, al El-Dib, Lebanon) is a Lebanese pop vocalist. Performing in Arabic, she has a fan base throughout the Arab world has a following amongst Arab expatriates in North America and Europe. Her musical career has spanned over 20 years.
Nawal George Al Zoghbi is a Lebanese singer. Born to a Maronite Catholic family in the coastal small town of Jal El-Dib, she holds Canadian citizenship. Al Zoghbi is the oldest born among three brothers and one sister. Al Zoghbi began singing at an early age, despite familial opposition to the lifestyle of a musician. Members of her family changed their minds when they realized she was serious in her ambitions. In 1988 she participated in the Lebanese talent show Studio El Fan. In 1990 she married Lebanese music manager Elie Deeb and went on to have three children with him. The couple legally separated in 2008 and Al Zoghbi waited three years for the Maronite Catholic Church to recognize their divorce. In late 2009, Al Zoghbi was granted custody of her three children and in March 2011, her divorce was officially legalized.
She achieved popularity first by singing traditional Arabic music with a pop sensibility, and later singing in the Gulf dialect, and also embracing newer trends in Arabian music. She capitalised on the popularity of music videos in Arab pop music in the '90s, which propelled her to local stardom in the Arab world.
Recording career:

1988–1992: Rise to fame
1994–2002: Stardom and controversy
2004–2006: New success with "Eineik Kaddabeen" & "Yama Alou"
2007-2008: The Face of LG mobile & "Khalas Sameht"
2009–2010: New Management & release of 3 singles
2011–2012: Come Back to the top with "Ma'rafsh Leh"
2013-2014: Single Releases
Albums:
»» Wehyati Andak (1992)
»» Ayza El Radd (1994)
»» Balaee Fi Zamany (1995)
»» Jadid (Compilation album) (1996)
»» Habeit Ya Leil (1997)
»» Mandam Aleik (1998)
»» Maloum (1999)
»» El Layali (2000)
»» Tool Omri (2001)
»» Elli Tmaneito (2002)
»» Eineik Kaddabeen (2004)
»» Greatest Hits (Compilation album) (2005)
»» Yama Alou (2006)
»» Khalas Sameht (2008)
»» Ma'rafsh Leh (2011)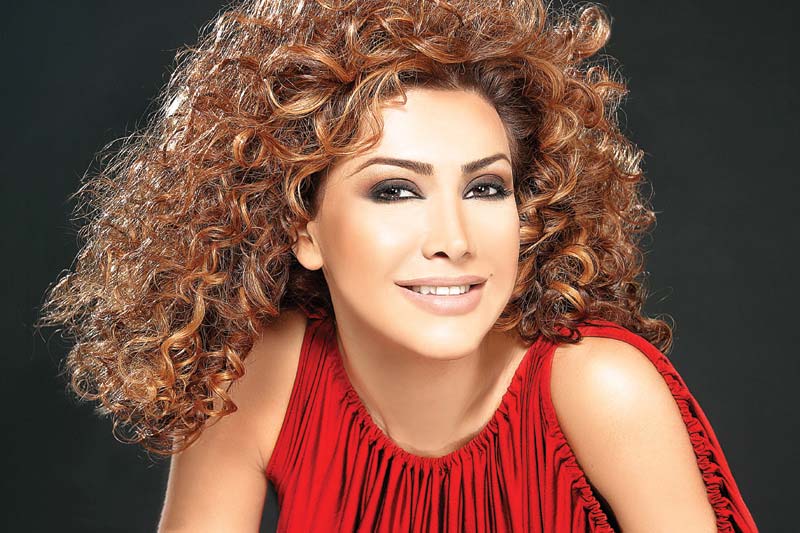 Awards:
1997
"Lions" Award for the best singer in Lebanon & Jordan
"Best Female Singer" in Lebanon
"Best Female Singer" in Arabic World
2006
Best Arabic Singer (T-A-C)
Album of The Year "Yama Alou" (T-A-C)
Song of the Year "Yama Alou" (T-A-C)
Clip of the Year "Yama Alou" (T-A-C)
Best Dancing Song of the Year "Yama Alou" (T-A-C)
Best Album "Yama Alou" (Lebanon Entertainment—LE)
Best Song "Yama Alou" (Lebanon Entertainment—LE)
Best Video "Yama Alou" (Lebanon Entertainment—LE)
Best Dance Song "Yama Alou" (Lebanon Entertainment—LE)
Entertainer Of The Week- 10 Times (Lebanon Entertainment—LE)
Entertainer Of The Year (Lebanon Entertainment—LE)
Best Fans for a singer (Lebanon Entertainment—LE)
Best Arabian Artist (Arabian Awards)
Best Female Singer award by AUST (Lebanon)
2004
Murex D'or Award: Best Female Lebanese Singer of the year
Arab Music Awards: Best Female Singer
Arab Music Awards: Overall Best Song
Best Arabic Singer (Egypt)
Best Album (Lebanon)
Best Lebanese Singer
2000
Best Lebanese Singer
Best Arabic Singer (Egypt)
1998
"Best Singer" in the UAE
1999
"First Arabic Singer"
Best Female (Jordan)
Best Female (Lebanon)
Best Female (Egypt)
Artist of the Year
2002
Best Album – Dubai
Best Singer – Egypt
2005
Best Arabic Singer (Egypt)
2007
Best Arabic Singer (T-A-C)
Song of the Year "Aghla El Habayeb" (T-A-C)
Clip of the Year "Aghla El Habayeb" (T-A-C)
Best Dancing Song of the Year "Adi" (T-A-C)
Best Song "Aghla El Habayeb " (Lebanon Entertainment—LE)
Best Video "Aghla El Habayeb" (Lebanon Entertainment—LE)
Best Dance Song "Adi" (Lebanon Entertainment—LE)
Best Lebanese Song "Aghla El Habayeb (Lebanon Entertainment—LE)
Best Khaliji Song for 'Adi' (Lebanon Entertainment—LE)
Entertainer Of The Year (Lebanon Entertainment—LE)
Best Fans for a singer (Lebanon Entertainment—LE)
Best Fan Group (Lebanon Entertainment—LE)
Best Website (Lebanon Entertainment—LE)
Fashion Idol (Lebanon Entertainment—LE)
Best Concert "Cartage" (Lebanon Entertainment—LE)
Best Artist In A TV Show appearance for Kanat Khamas Noujoum
Voting Star Winner (Lebanon Entertainment—LE)
Best Arabian Artist (Arabian Awards)
Artist of the Year (JE Awards)
Gold Dulex Album (JE Awards)
Favorite Female Artist (JE Awards)
Best Dressed Artist (JE Awards)
Most Famous in America (JE Awards)
Most Likely to Have the Best 2008 (JE Awards)
Best Album of The Year "Yama Alou" (JE Awards)
Best Khaliji Song for "Adi" (JE Awards)
Video of the Year "Aghla El Habayeb" (JE Awards)
Arab Hottie (JE Awards)
2008
Leih Moshta2alak – Best Song – Murex D'or
Best Song – Leih Moshta2alak MEMA
2009
Most Successful Artist- Rotana (The Manager)
Honored in Malaysia
Ranked 5th on the list of Sexiest and Most Desirable Arab Women in 2009
2011
Platinum Sales Album Of The Year – Virgin
First Candidate Album for The Arabic World Music Awards Prize
2012
Best Lebanese Female singer of the year (Murex D'or)
2013
Best Lebanese singer (OTV Awards 2013)
Best Song and Video Clip for "Gharibi Hal Dinyi" (OTV Awards 2013)
2014
Best Lebanese Singer with ongoing success (Murex D'or)
Source: Wiki