25 must-do activities at Doha's best-known souq spot
25 things to do at Souq Waqif , Doha-Qatar

Part of the fun of Souq Waqif is getting lost trawling around looking for something-or-other, finding all the random snippets the "standing market" has to offer. Originally, in times past, rumour has it that it is called the "standing market" [Souq Waqif] because merchants had to stand up as it would get flooded by the overflowing wells in Musheireb. It was rebuilt as it was before (without the flooding problem), in keeping with postmodern principles and, fundamentally, it leaves us with a plethora of activities to explore and things to try. Here are some of our favourites…
⇒ Smell some spices
You don't have to buy things to appreciate them. The aromas coming from the alleyways and shops where they sell the spices are incredible. Enjoy the best that coriander, thyme, rose, mint, chillies and Indian spices such as cumin and turmeric have to offer as they collide together to make the most amazing aroma. Of course, you can also purchase as much as you like and cook with them to make a meal to remember, but just moseying around the area should suffice.
⇒ Visit the park
One of the nicest parks in Doha, if you put your car in the car park on the Corniche road, when you exit the car park to go to the souq you are likely to exit at the park. With amenities for children and a shop that sells drinks, you can wile away plenty of time in a green setting before your excursion to the souq starts. There are great views of both the MIA and the souq, depending on which way you sit .
⇒ Eat kunafeh
One of the best desserts you could ever imagine to eat, kunafeh is a Turkish dessert soaked in a sweet sugar syrup. The cheese based dish is a crowd pleaser in Turkey and around much of the MENA region, and we can't get enough of it. Great to have as a snack or to order for dessert, there are many places at the souq that sell it but our pick of the bunch is absolutely Al Aker, which specialises in the stuff. Always packed in the evenings, this establishment on the main stretch of the souq really is legendary. Al Aker is open until late, too, for a midnight snack.
⇒ Get up close with camels
At the edge of the souq by the Corniche, there is a well-looked-after herd (or a caravan) of camels for you to admire. If you ask the gentleman nicely and there is a camel near the fence, you should be ok to give the animal a pat, and they are friendly. This gives you a feel of history and of the culture of the Qatari people. It's also therapeutic.
⇒ Admire the gold
It's worth its weight in gold. And that's the thing about buying it over here – price is all based on the weight of the piece of the jewellery. And in the gold souq, hidden away in the arts and crafts area, is the gold souq. Ornate, elaborate and so shiny that a magpie would have a field day. For more affordable gold, the smaller shops dotted around the souq offer lesser quality goods but at much reduced prices, so it won't break the bank at all if you wish to buy a piece.
⇒ Eat at Al Mourjan
Perhaps Al Mourjan is best-known for its stunning spot on the Corniche overlooking West Bay. But there is another chain of the restaurant at the edge of the main strip, with cheaper prices as well. You can sit inside or outside and enjoy the atmosphere as well as a wide-range of Lebanese specialities. The bright interior is ideal for when it is too hot to sit outside. Open Sat-Wed 12:30pm-midnight; Thu-Fri 12:30pm-1am, (4483 4423).
⇒ Spot a falcon
It's good to be a falcon in Qatar. They are revered animals and pampered and loved. This is also highlighted by the fact the souq actually has a falcon hospital for poorly falcons. We don't encourage buying one of course (unless you have all the amenities required to look after it properly) but the falcon souq at Souq Waqif houses many of these beautiful and spectacular creatures. Get up close to one to fully appreciate its beauty.
⇒ Play backgammon
One of the best pastimes in the souq is to sit and have a coffee and a good game of backgammon with a mate. No matter what your nationality, this is an extremely pleasant experience and one that should not be missed. The Majlis Al Dana houses plenty of backgammon boards and is a great retreat to work the brain and share some time with a friend. Open til late.
⇒ Have a traditional crepe
Made by the most skilful ladies in Qatar, there are a choice of sweet and savoury crepe flavours to have from the street and straight into your hand, and you should definitely get change from QR10. This is a great way to experience street food in the city, and it is always busy around the area before you enter the souq from the main car park with people grabbing a tasty snack before their souq escapades. Our favourite is the Nutella crepe.
⇒ Go to the arts centre
Always worth a visit, this is where you can find Qatari and regional artists not only exhibiting artwork, but painting on site as well. Contemporary art is fused with Qatari tradition to create some of the best exhibitions in the city, with sculptures, paintings and much more on show. On the main straight and in between Al Mourjan and where to get your kunafeh, this is a must on the Souq Waqif map.
⇒ People watch over shisha
People are always interesting to watch. The variance of cultures in Doha also makes this a fascinating pastime. Why not chill with friends or by yourself at one of many cafés dotted on the main strip of the souq and people watch until your heart's content, with the bustling and packed stretch bringing hours of entertainment and contemplation.
⇒ Experience Europe at Café Tasse
Café Tasse is a bit of an anomaly. In many ways, it's nicer to sit inside, even though it is on the main stretch of the souq. Each room is decorated differently, all with a feeling of European grandeur. The menu is vast and it is a good place to eat all-day-long. But it's the cakes that we like the most. Breakfast is also good to have here. Open daily, 8:30am-1am (4444 7017).
⇒ Visit The Village
The Village has another site now to serve food as well as on Salwa Road. The Village takes up a large chunk of the souq, appointed on the main section and where two paths intersect. You can't miss it. Sit downstairs and eat Turkish dishes, or upstairs and enjoy Persian and Indian selections. Sitting outside upstairs is a great shout. Open daily, 8am-12:30am (3311 1558).
⇒ Peruse some ''antiques''
Part of the fun of the souq is the potential for you to get a little bit ripped off. Although not at Oman or Bahrain souq standard for selling ''antiques,'' you could also find yourself buying some of these items for a pretty penny here. You may be told they are hundreds of years old, and they may well might be, but most of us aren't antiques collectors and part of the fun is working out whether it was made in a factory last week or not.
⇒ Enjoy Shebestan Palace
Grand, ornate and opulent, the aesthetic of the Shebestan Palace is its initial draw. Situated with all the shisha cafés and restaurants, you can escape to Persia by choosing to dine here. The beautiful mirrors and glassware and private dining areas make it an Iranian feast of exciting mezze foods, good refreshments and top-notch grills. A souq ''experience'' that is not to be missed. Open Sat-Thu noon-midnight; Fri 1pm-1am (4441 1494).
⇒ The obligatory souvenirs
So you've just paid over the odds for an ''antique.'' It's now time for that feel good factor of paying for a piece of tat to send to a mate back home for a bit of a laugh. Of course, you're more than welcome to keep the bits and pieces yourself. Guy in a thobe mug, different variations of camel products, I love Qatar scarves – you can find all of these. Try haggling with the chaps but, be warned, they're notoriously stingy and you could pay QR30 for a piece of absolute rubbish.
⇒ Look at arts and crafts
The arts and crafts section of the souq is one of our favourites. Not only do you get to look at some of the amazing things made, such as musical instruments, glassware, upper end souvenirs and more, you also have the opportunity to purchase them and even to watch the guys make them on site. This is what makes buying the products so special – you know who has made it. Our favourite place is the glassware shop, selling a wide range of baubles and decorations, made on site.
⇒ Eat on the floor
Sounds odd, right? Well if you want an awesome experience of hiring out a section of the restaurant and taking your shoes off and enjoying great Yemeni food, then you must take a trip to Bandar Aden, on the outskirts of the souq and near the Corniche road. It's also very affordable, very enjoyable and an experience you will always remember. The stews are among some of the best in town. Normal tables are also available, but where's the fun in that? Open Sat-Thu 8am-11pm; Fri 12:30pm-11pm (4437 5503).
⇒ Buy some oud and perfumes
Perfumes are not in short supply in the souq, and it is the Arabian scents that catch the attention the most. Although oud, special wood that is burned for its smell, is possibly a little too strong for some, other people can't get enough of it. It is priced at around QR100 for every ten grams. Ask the guy in the shop about it and keep some oud as a memento.
⇒ Spot a policeman
In keeping with the traditional aesthetic of the souq, the policeman are also dressed in uniforms that were worn in the 1940s. As well as keeping us all safe, this little anomaly provides us with something a little bit different to discover and enjoy. The best place to find one of these gentlemen will be at the Souq Waqif roundabout, directing the traffic.
⇒ Get a tailor-made suit
The words "tailor-made" can breed fear into the hearts of anyone without a wallet that is ever-expanding, but have no fear, the prices at the souq are extremely reasonable. A full suit will set you back somewhere in the region of QR600, and shirts are obviously much cheaper. Always ask the prices of each fabric before getting measured up.
⇒ Eat Qatari food
There's a new café in town, and it's in the Al Mirqab Boutique Hotel. It's name is Café Brouq. We really like it, and you can choose from a wide range of international selections. But it is the Qatari and regional dishes that really strike a chord. Favourites such as balaleet (noodles cooked in sugar) and shakshouka (eggs and tomatoes) make this one of the best breakfast spots in the city, and the Qatari desserts are good any time of the day. Open daily, 8am-11pm. Al Mirqab Boutique Hotel (4433 6444).
⇒ Go fishing for pearls
Pearl fishing and Qatari heritage go hand in hand, so it's not surprising that you can find a beautiful array of pearls at the souq. The best place to spot these wonderful phenomenons of nature is at the gold souq, as there is also a spectacular collection of pearl rings, necklaces, brooches and more. About to have a thirtieth wedding anniversary? Then you know where to come…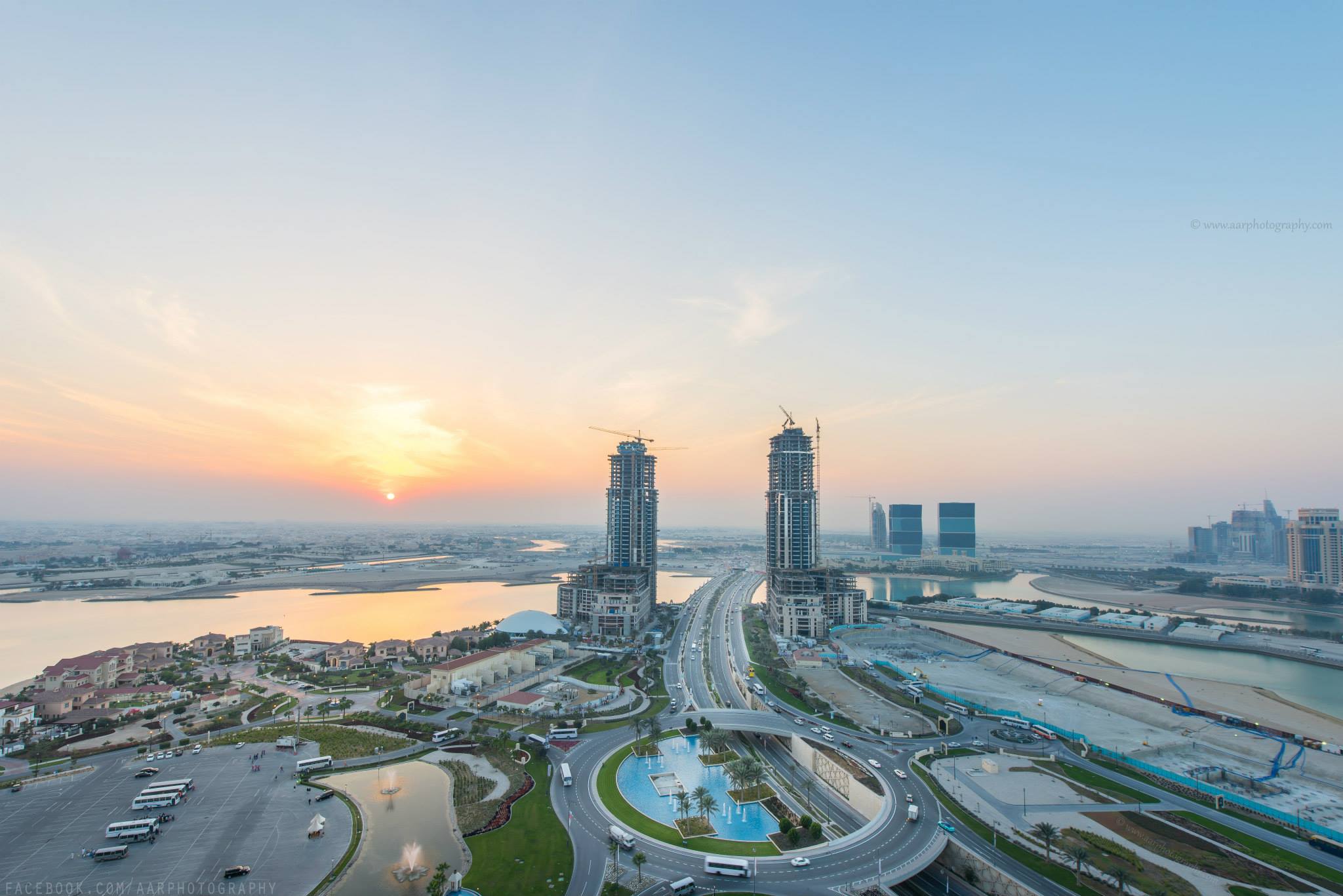 ⇒ Have a slice of Syria
Bustling at any time and any day, Damasca One restaurant is one of the most popular restaurants in Doha, period! There is seating upstairs and downstairs. Downstairs has a band, upstairs has a terrace. Upstairs wins. It's perfect to look out, eat some of your favourite Syrian food, have a great grill and enjoy all that the restaurant has to offer. This is a must-do, Open daily 9am-11am, noon-midnight (4475 9088).
⇒ Visit Al Wakra Souq
For those living in Wakra, or those that fancy a trip a little out of the city, Al Wakra Souq is being constructed on a daily basis. The waterside already has an array of cafés and the view is as spectacular as any you would find in the centre of Doha. It's worth a visit now, and when it's finished, it'll rival Souq Waqif as the top souq in Qatar.
Souq Waqif is located just off Corniche Road. Can't find something in the souq? Go to the main stretch and find the tourist information building, near Damasca One. Al Wakra Souq is just off Al Wakra Main St.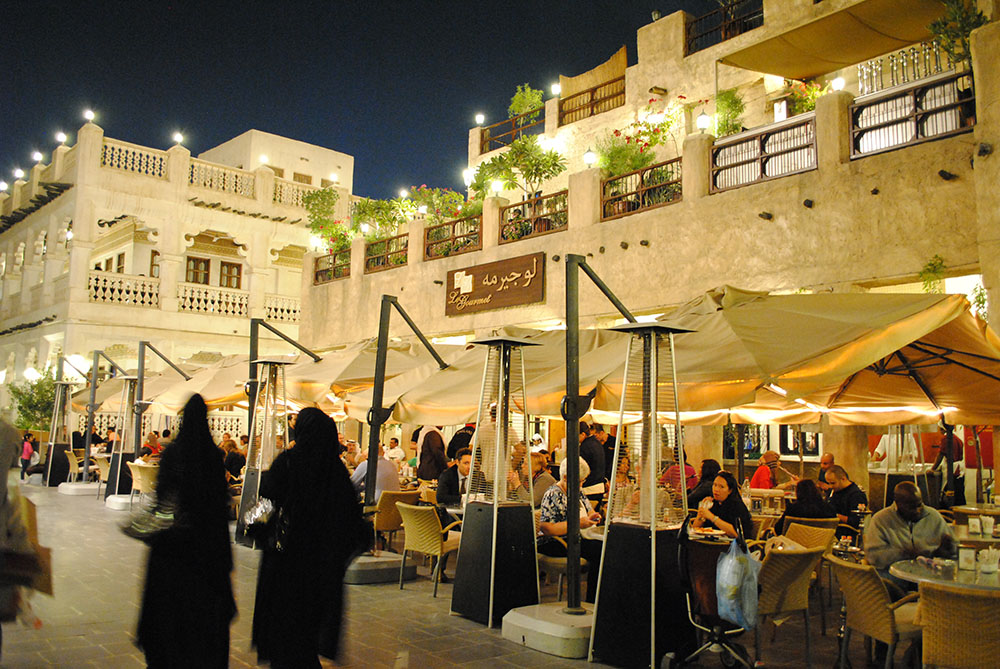 ⇒ Other souqs in the city………
»» Souq Al Deira In between Al Jabr and Al Tarbiya streets, off from Abdullah bin Jassim Street, near the Watch Islamic Cultural Centre. Good for tailors.
»» Souq Al Asiery Next to Souq Al Deira. Good for fabrics.
»» Souq Al Jabor Next to Souq Al Deira. Good for an eclectic range of clothing.
»» Filipino Souq Just before Souq Al Deira. Cheap foodstuffs and clothing, as well as Filipino restaurants.
»» Souq Nasser Bin Saif / Souq Abdullah Al Sadda Al Ahmed Street, just off Banks Street (not far from Souq Waqif). Good for electronics.
»» Souq Ali Across the road from Souq Waqif. Good for thobes.