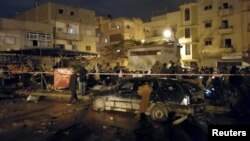 People gather at the site of twin car bombs in Benghazi, Libya, Jan. 23, 2018.
Twin car bombings in Benghazi, Libya, killed at least 33 people and wounded dozens more Tuesday.
The first car blew up outside a mosque in the al-Salmani neighborhood. A second bomb went off at the same spot about 30 minutes later with the apparent intention of killing police and rescue workers.
There was no immediate claim of responsibility for the attack.
The United Nations mission in Libya condemned the bombings, emphasizing that attacks against civilians are a violation of international humanitarian law.
Benghazi was at the center of three years of fierce fighting between extremists and forces loyal to Libyan military strongman Khalifa Haftar. He declared the city liberated last year.
Libya has been in chaos since longtime dictator Moammar Gadhafi was toppled and killed in 2011.
Haftar heads a government based in eastern Libya, while an internationally recognized administration has been set up in the western capital of Tripoli. The western government has struggled to assert its authority across the country.
The uncertainty in Libya has opened the door to terror groups such as the Islamic State to set up camps.