Ukraine news live: Belarus moves troops to border – as Kyiv blocks gas pipeline to Europe
Ukraine latest as the UK agrees a security pact to help Sweden and Finland in any war; Ukraine stops flow of gas through pipeline that accounts for a quarter of Russian fuel to Europe; Russian targets hit in battle for Snake Island.
PM's pledge to support Sweden is significant – and is set to be repeated in Finland
By Deborah Haynes, security and defence editor
The UK has signalled that if Russia were to attack Sweden – which, like Ukraine, is not a member of NATO – it will respond to any request for help, including with military force.

This is a significant pledge and is set to be repeated when Prime Minister Boris Johnson visits Finland, later on Wednesday.
It draws both Nordic states closer towards the security blanket provided by the NATO alliance as they decide whether to take the historic step of requesting formal membership themselves.
Both Stockholm and Helsinki are expected to make their choice clear in the coming days.
But the UK decision to offer these "mutual security assurances" means that whatever happens next, the two countries can count on the assistance of a NATO member state in their hour of need.
This is something that Ukraine lacked – meaning it had less of an ability to deter Russia when President Vladimir Putin started massing forces at the country's borders.
Conversely, should Moscow choose to attack Sweden or Finland, either state can now call on the support of the UK. If this support includes military force, Russia could regard the UK as also being a direct party to the conflict and hit Britain as well.
As the UK is a member of NATO, such a move could trigger the Article 5 guarantee enjoyed by all member states that an attack on one is an attack on all.
It means Russia might think twice of targeting Sweden or Finland in the first place as it would be aware of the potential for a chain reaction that would lead to a direct confrontation with the whole alliance.
Russian volunteers help Ukrainian refugees flee Kremlin-controlled territories
Ukrainian refugees who find themselves in Kremlin-controlled territories are being helped by networks of Russian volunteers as the war wages on.
The volunteers provide advice to those trying to flee besieged zones in the country with travel routes as well as help with money, transport and accommodation along the way.
They represent one of the ways that Russians who are opposed to the war are expressing how they feel at a time when domestic laws effectively restrict the ability of people in Russia to openly criticise the military, several individuals interviewed by Reuters said.
"We all have this constant feeling of guilt," said 20-year-old Maria Belkina, a Russian native living in Georgia who runs a group that she says has helped around 300 Ukrainians exit Russia.
Elsewhere, Ukrainian refugee Bogdan Goncharov described how he was helped by a Russian volunteer in March.
Mr Goncharov, his wife and their seven-year-old daughter found themselves in a Russian-controlled region of Ukraine after fleeing the shelling in their hometown of Mariupol earlier this year.
With their lives under constant threat, Mr Goncharov contacted a Russian volunteer who arranged transport for them to travel across Russia to the Estonian border.
"It's a miracle we got out. It's thanks to the volunteers," Mr Goncharov said.
Johnson pledges to support Sweden if it decides to apply for NATO membership
Boris Johnson has said the UK will support Sweden if it decides to apply for NATO membership.
"I am sure the UK will support whatever course of action Sweden decides to embark upon. We will be as useful and support as we can," he said, after signing a pact that would see the UK help Sweden and Finland in the event of war (13.05 post).
Swedish Prime Minister Magdalena Andersson said: "We are exploring all possible options and NATO is one of them that is on the table.
"We have had discussions with several countries how they see this 'grey period' (from submitting an application to join) until we are fully members.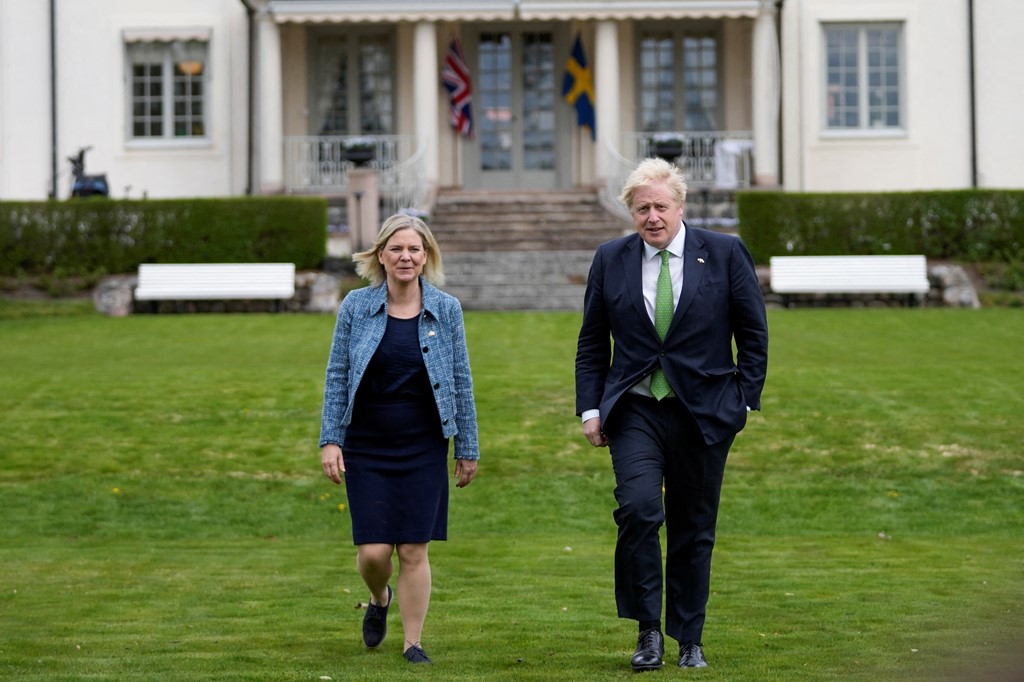 "We have got reassurances from several countries. I am here with Boris Johnson today, I had a press conference with (German Chancellor) Olaf Scholz last week, I also had our foreign minister in Washington last week."
Meanwhile, Finnish Prime Minister Sanna Marin has said the possibility of her country joining NATO was for the security of its citizens.
The two countries are expected to announce their positions on NATO membership this week in what could be a serious blow to Russia as its military struggles to make decisive gains in Ukraine.
"If Finland makes this historical step it is for the security of our own citizens," Ms Marin said. "Joining NATO will strengthen the whole international community that stands for common values."
Finland and Sweden would bolster NATO's military capabilities significantly
Defence and security analyst Michael Clarke has provided an insight on why Finland and Sweden might feel the need to firm up their security through NATO.
The two countries are historically neutral – the latter since 1812 – but have decided to change this status in the face of the Russian invasion of Ukraine.
If they are to join NATO, Finland would have one of the largest armies in the military alliance.
Mr Clarke said: "The Finns – when they mobilise, they mean it. Their army is 200,000, that would make it one of the biggest armies in NATO.
"That's almost three times bigger than the British army.
"So, when Sweden and Finland join NATO, then NATO's military capabilities will increase quite a lot."
He then turned to the situation in the Donbas, where Russian attacks have intensified in recent weeks.
"This big offensive is still building, the Russians are still bringing more stuff in," Clarke said. "They're not really making much progress except around Popasna."
However, he said "the most interesting development is further north around Kharkiv".
Here, the Ukrainians are counter-attacking to the north and the east of Kharkiv.
"That is really complicating Russia's communications, because their communication runs from Belgorod in Russia, right through Kharkiv to Izyum, which is their northern anchor for this big offensive that they're pushing forward."
Pro-Russian forces in Kherson will ask Putin to become part of Russia – reports
Pro-Russian forces in the occupied southern city of Kherson plan to ask Vladimir Putin to incorporate it into Russia, Tass news agency reports.
Kirill Stremousov, deputy head of the military administration in Kherson, allegedly confirmed a decree will ask for the region to become a "full-fledged subject of the Russian Federation".
Kherson, in southern Ukraine, has been under Russian control since March.
It is a strategically important site, as it provides part of a land corridor between the Crimean peninsula and Russian-backed separatist regions in eastern Ukraine.
Kremlin spokesman Dmitry Peskov said it is for the residents of Kherson to decide their own fate, according to the BBC.
Ukrainians in Kherson have launched a series of rallies against the Russian occupation of the region, but Russian-backed forces have pushed forward with their plans.
Most recently, there was an attempt to introduce the Russian rouble as currency.
Boris Johnson says UK and Sweden will assist each other 'upon request' if under attack
Boris Johnson has been speaking at a news conference in Sweden with the country's Prime Minister Magdalena Andersson after signing a security declaration with the nation (see 12.41 post).
He explained the new assurances would see each country come to the other's aid "upon request" in the event of a threat.
"What we're saying and doing now is in some ways no more than a statement of the obvious, that two liberal democracies faced with an attack would want to come to each other's support," he said.
"Whether it's in the event of a disaster or a military attack, what we're saying today is upon request from the other party we would come to the other party's assistance.
"It's vital to state that now in the grim circumstances in which we find ourselves with the Russian attack in Ukraine."
The prime minister went on to say the agreement would "bring the countries closer together" and allow the nations to "share more intelligence" and "bolster military exercises".
"The many carcasses of Russian tanks that litter streets in Ukraine thanks to Swedish-developed and British-built NLAWs certainly speak to how effective that cooperation can be," he added.
Gas supplies 'stable' despite Ukraine blocking pipeline to Europe
Germany's energy regulator says gas imports are stable despite Ukraine blocking a pipeline from Russia today.
The regulator said the drop in supply to Europe – which amounts to a quarter of fuel – is more than compensated for by higher volumes from Norway and the Netherlands.
Gazprom admits Ukraine has left only one entry point for transiting Russian gas to Europe and that this is undermining the security of gas supplies, RIA news agency reported on Wednesday.
PM signs security declarations with Sweden and Finland
Prime Minister Boris Johnson is signing mutual security assurances with the leaders of Sweden and Finland today amid increased threats in the region.
Mr Johnson signed the declaration with Prime Minister Magdalena Andersson in Sweden, and this afternoon he will travel to Finland to sign a similar security declaration with President Sauli Niinisto.
The declarations will see a change in defence and security cooperation between the UK and each country, intensifying intelligence sharing, accelerating joint military training, exercising and deployments, and bolstering security across all three countries and northern Europe.
They will also allow the UK to cooperate with Nordic partners and their armed forces, in all domains, including cyberspace.
Mr Johnson said: "We are steadfast and unequivocal in our support to both Sweden and Finland and the signing of these security declarations is a symbol of the everlasting assurance between our nations.
"These are not a short-term stop gap, but a long-term commitment to bolster military ties and global stability, and fortify Europe's defences for generations to come."
Sweden and Finland are currently considering  whether to apply for NATO membership in the wake of Russia's invasion of Ukraine.
Both the countries are expected to make decisions this month.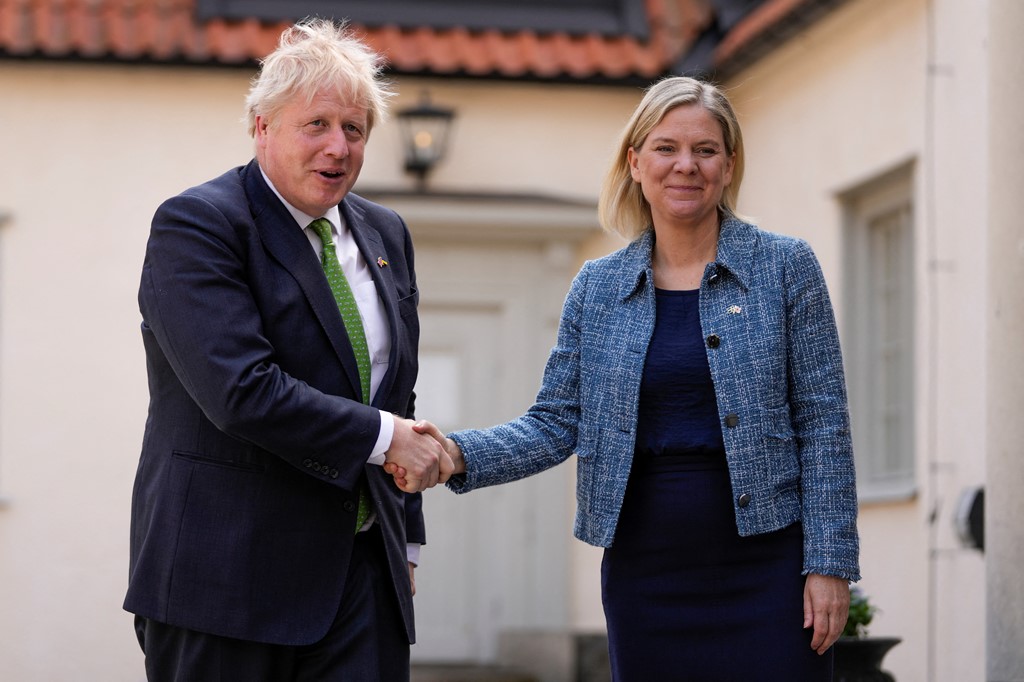 Russia summons Polish ambassador in Moscow
Poland's ambassador to Russia has been summoned to the foreign ministry in Moscow, the state-run news agency PAP cited the Polish foreign minister Zbigniew Rau as saying.
"As far as our relations with the Russian federation are concerned, we know that the Polish ambassador to Moscow has been summoned to the Russian foreign ministry," Mr Rau was quoted as saying at a news conference.
For context: The move comes as tensions between the two nations run high after Russia's invasion of Ukraine in February.
Last month, Poland imposed sanctions on 50 Russian oligarchs and companies over its war in Ukraine.
It also passed a law allowing it to freeze the assets of Russian entities and ban imports of coal from Russia.
Poland has consistently argued for tougher sanctions against Russia and has previously said it would stop importing Russian coal by May and stop using Russian oil by the end of 2022.
Earlier this week, Russia's ambassador to Poland, Sergey Andreev, had red paint thrown in his face by protesters opposed to the war in Ukraine.
Fighters inside Azovstal steel plant 'defending 'entire Western civilisation', Ukrainian MP says
The Ukrainian fighters holed up inside the Azovstal steel plant in the besieged city of Mariupol are fighting not just for the country but for "the entire Western civilisation", Ukrainian MP Andrii Osadchuk said today.
Speaking to Sky News, Mr Osadchuk described the fighters as "icons of bravery" and said Ukraine was doing all it could to "save our heroes".
He went on to say while the "military guys were still there" inside the steelworks, "no civilians were inside the plant".
Mr Osadchuk said: "They are defending not just Ukraine but the entire Western civilisation, that's what is important to understand."
Asked about the impact of recent strikes on Odesa, the Ukrainian MP said Russian forces were continuing to launch cruise missiles at the region despite "so-called holidays in Russia".
"Some non-military objects were destroyed. Some hotels and shopping centres were destroyed," he added.
"Luckily not many people were hurt and it is my knowledge that no one was killed but it is confirmation that Russia continue to implement their original plan, to build a corridor to Transnistria, trying to block Ukraine from the Black Sea."
The comments come as the leader of Ukraine's Russian-backed breakaway Donetsk People's Republic, Denis Pushilin, also said there were no civilians left at the Azovstal steel plant, TASS news agency reported.
"According to our information, there are no civilians left there. Consequently, our units' hands are no longer tied," TASS quoted Mr Pushilin as saying.
In pictures: Ukrainian medics and soldiers at hospital in Donetsk region
As Kremlin troops continue with their eastern offensive, images have emerged of Ukrainian medics and soldiers at a hospital in the Donetsk region of Bakhmut.
Both the Donetsk and the Luhansk region, which are known collectively as the Donbas, are majority-Russian speaking areas and a number of Russians regard them as regions that could be seized by Moscow.
Fighting in the regions has been taking place since 2014.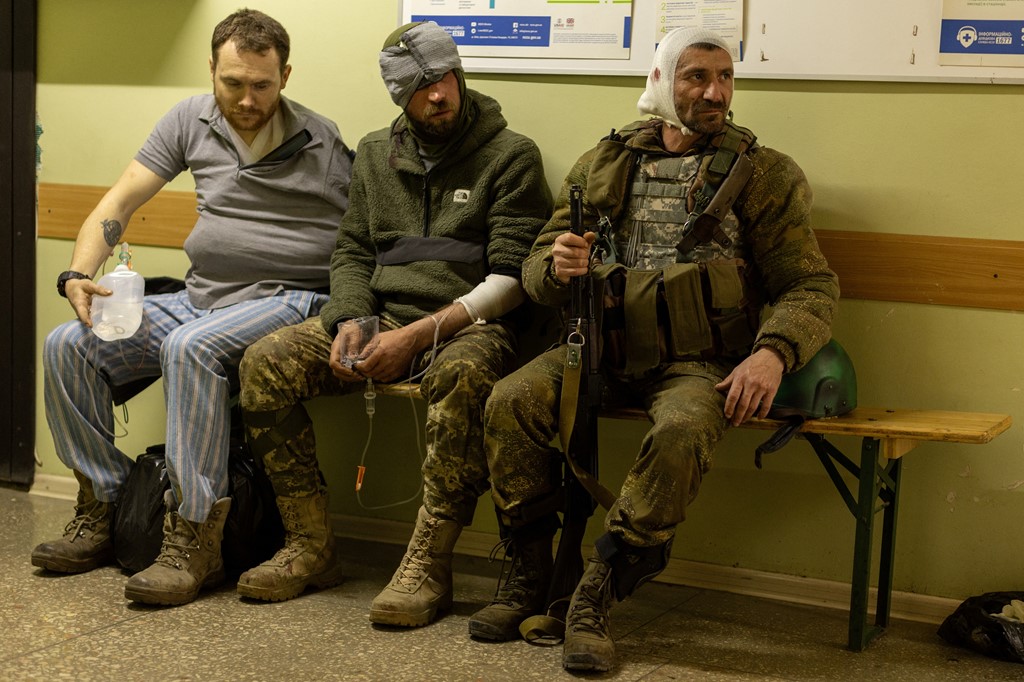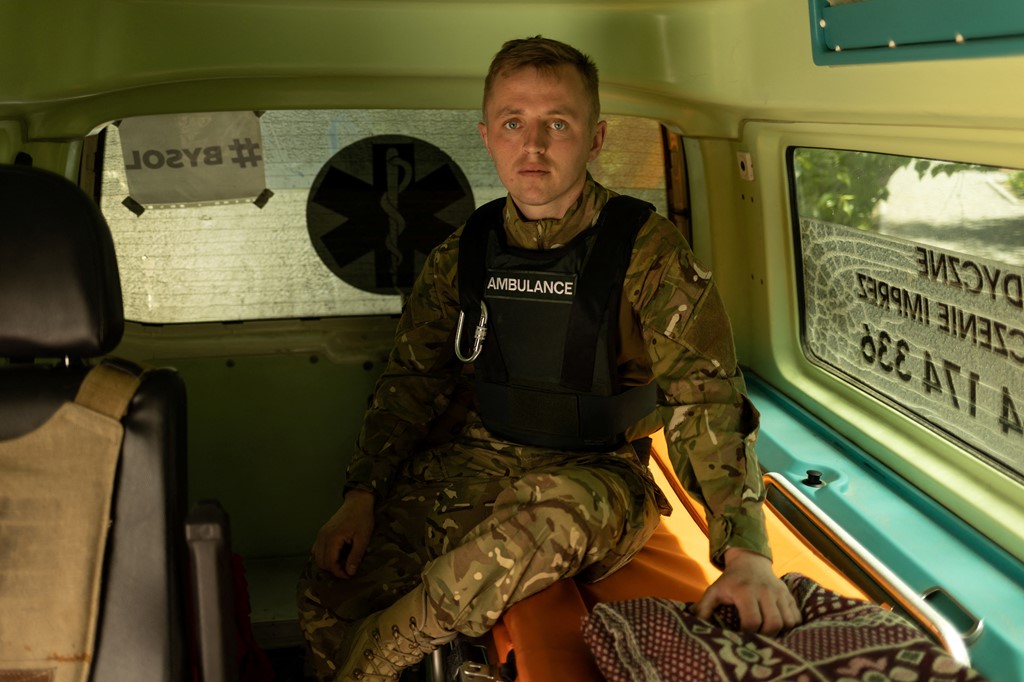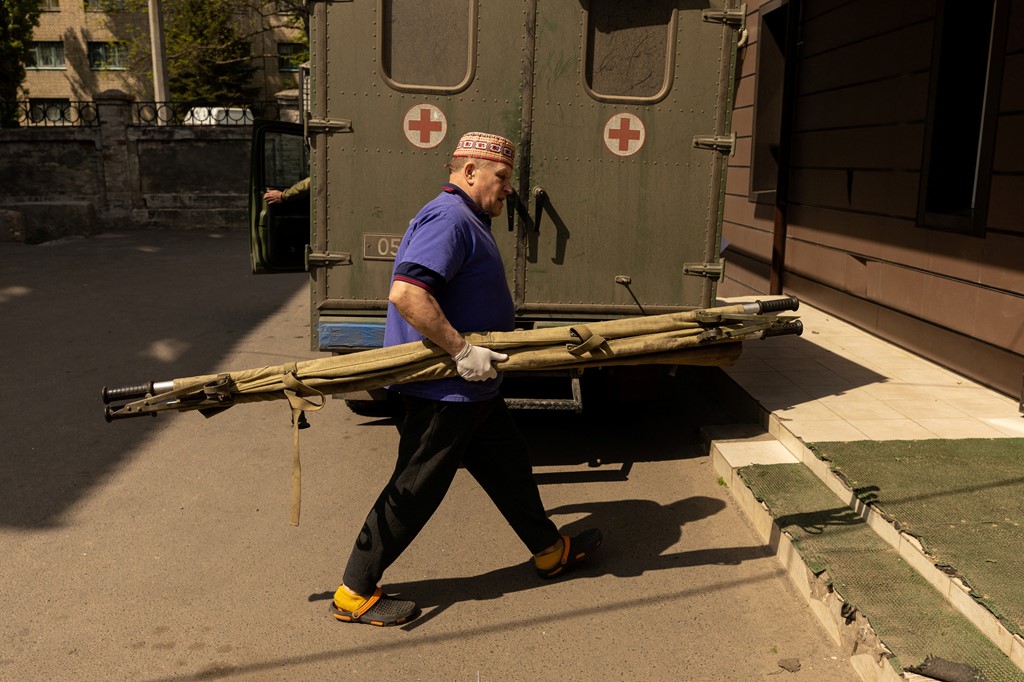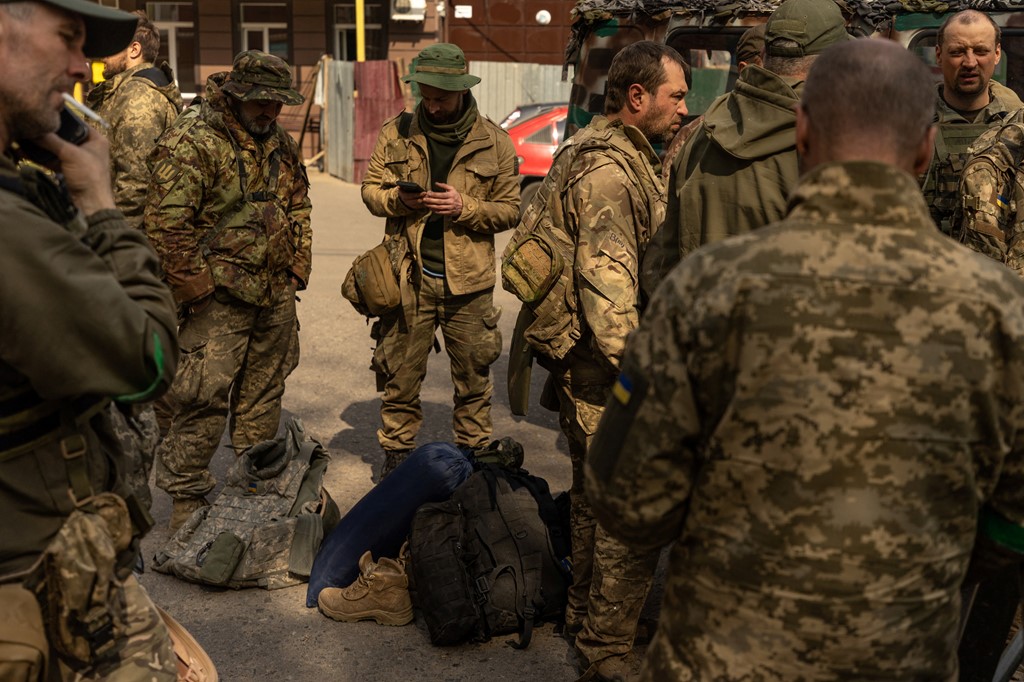 Belarus deploys troops to border with Ukraine after 'Western forces increase military presence' in region
The Belarusian authorities have deployed their armed forces to the border of Ukraine as Western allies "build their military presence" in the region.
The chief of the general staff of the armed forces, Viktor Gulevich, alleged Ukraine had sent around 20,000 people close to the Belarus border before going on to say the move required a "response".
In a statement on Telegram he said: "The group created over the past six months has more than doubled both in quantity and quality.
"The appearance in the waters of the Mediterranean and Baltic Seas of a group carrying sea and air-based cruise missiles, an increase in the aviation group in the countries of Poland and the Baltic states indicate a growing threat to the Republic of Belarus."
Mr Gulevich said troops had been deployed to the region to "in order to ensure the security of the Republic of Belarus".
"The grouping created by the armed forces of Ukraine in the southern operational direction with a total number of up to 20,000 people also requires a response from us," he added.
"In order to ensure the security of the Republic of Belarus in the southern direction, the forces of the units of the special operations forces are deployed in three tactical directions."
Former Russian president accuses US of waging 'proxy war' after funding boost
Former Russian president Dmitry Medvedev accused the United States of waging a "proxy war" against Russia today after the House of Representatives passed a fresh $40bn (£32.4bn) Ukraine aid package.
Mr Medvedev, who has served as deputy chairman of Russia's security council since resigning as prime minister in January 2020, claimed the package was "not at all explained by love for Ukraine and not even support for its own economy".
He wrote on the Telegram messaging app: "Its goal is to continue the proxy war against Russia, the desire to inflict a heavy defeat on our country. To limit its economic development and political influence in the world. Will not work.
"Their printing press, due to which America is constantly increasing its already inflated national debt, will break faster.
"Not to mention the insane prices for gasoline and food, for the growth of which Americans should thank their Russophobic authorities. But the goals of the special operation will be achieved."
The US House of Representatives passed the fresh $40bn Ukraine aid package on Tuesday.
The bill would give Ukraine military and economic assistance, help regional allies, replenish weapons and provide $5bn to address global food shortages caused by the war crippling Ukraine's normally robust production of crops.
Russian forces leave 'deadly traps' in Kharkiv and 'doing everything to hurt as many civilians', governor says
We reported earlier on Ukraine's counter-offensive near the northeastern city of Kharkiv.
The Ukrainian General Staff said their forces had driven the Russians out of four villages to the north and northeast of Kharkiv.
Now, the region's governor Oleg Synegubov has said Russian troops have left behind "deadly traps" in the area as fighters of the armed forces continue with their offensive.
In a Telegram message, Mr Synegubov wrote: "Retreating, the Russian occupiers leave behind deadly traps."
He went on urge residents to remain indoors as the "fierce fighting" continued.
"The enemy is insidious and is doing everything to hurt as many civilian Ukrainians as possible," he added.
"Fierce fighting continues in the Kharkiv region. Fighters of the armed forces continue their offensive, destroying the occupiers and expelling them from our land."
Boris Johnson boards flight to Sweden – but Number 10 forced to deny NATO suggestion
Boris Johnson has boarded his flight to Sweden where he is due to meet Swedish Prime Minister Magdalena Andersson.
Mr Johnson, who is expected to discuss broad security issues with Ms Andersson, will then travel to neighbouring Finland and meet President Sauli Niinisto.
The visit comes as Sweden and Finland consider whether to apply for NATO membership in the wake of Russia's invasion of Ukraine.
Number 10 has said it is "disinformation" to suggest the prime minister was seeking to put pressure on the countries to join the western military alliance.
"We understand the positions of Sweden and Finland and that is why the prime minister is going to discuss these broader security issues," Mr Johnson's official spokesman said.
In March, Mr Johnson held talks with Ms Andersson and Mr Niinisto as part of a meeting of the Joint Expeditionary Force nations, which includes Denmark, Estonia, Iceland, Latvia, Lithuaniathe Netherlands and Norway.
Elderly man in Kharkiv leaves note on door informing others he has survived another day
As the war in Ukraine enters an 11th week, images continue to emerge of the struggles civilians face in the war-torn country.
This picture shows the note an elderly man in Kharkiv continues to leave on his door as a way of informing others he has survived another day.
Kharkiv, which is Ukraine's second-largest city, has been under near-constant shellfire since Kremlin forces invaded the country on 24 February.
However, President Volodymyr Zelenskyy claimed in his nightly address yesterday that Russian forces are now being pushed back from the northeastern city.
If the Ukrainian counter-offensive is successful, it could jeopardise Russia's main advance (see 03.45 post for more on this).
EU oil embargo proposal will destroy Hungarian economy, country's foreign minister says
The EU's proposal on oil sanctions against Russia would destroy the Hungarian economy, the country's foreign minister has warned.
In a video of Facebook, Peter Szijjarto said the sanctions proposed by the European Commission did not offer a solution to the huge problems it would create for Hungary.
He went on to say the only realistic way to an oil embargo on Russia would be if it applied to maritime oil shipments, with shipments of Russian oil via pipelines fully exempted.
The EU has imposed a series of measures to deprive Russia of much needed income after the country invaded Ukraine.
Earlier this month, the EU announced plans to ban Russian oil by the end of the year as part of a sixth package of sanctions.
European Commission President Ursula von der Leyen said: "This will be a complete import ban on all Russian oil, seaborne and pipeline, crude and refined.
"It will not be easy. Some member states are strongly dependent on Russian oil. But we simply have to work on it."
Lithuania goes further than most in diplomatic language against Putin – saying regime needs to end
Lithuania's foreign minister has said removing the Russian regime from power is the only way to stop the Kremlin's "warmongering" and protect the West.
Speaking to CNN in Washington, Gabrielius Landsbergis stressed that a long-term strategy needed to be determined amid Russia's invasion of Ukraine and said the world needed to be prepared that the Kremlin "might war again".
He told CNN: "Russia's warmongering state will be over when the regime is over in Russia. That's the only way that we see it."
Mr Landsbergis did not suggest any course of action to remove Mr Putin and acknowledged that "it might take quite some time" for the Kremlin regime to change.
Lithuania is one of the three Baltic states about which there are fears on Russia's intentions.
Lithuanian officials, including Mr Landsbergis, have been especially outspoken about their concerns but his overt calls for regime change go beyond what most NATO allies have been willing to express.
Pussy Riot band member flees Russia dressed as food courier
Political activist and member of the Russian band Pussy Riot fled Moscow disguised as food courier after criticising the Kremlin leader, The New York Times reports.
Maria Alyokhina, 33, and her fellow band members first came to the attention of the Russian authorities after staging a protest against President Vladimir Putin in 2012.
Despite being sentenced to two years in prison for their activism, the group continued to speak out against the Kremlin leader, with Ms Alyokhina remaining determined to fight Mr Putin's system.
In April, Russian authorities placed Ms Alyokhina under house arrest as they tried to stop those who opposed their invasion of Ukraine across the country.
She was then ordered to spend 21 days in a penal colony.
However, the band leader managed to evade the Moscow police by disguising herself as a food courier.
She was then able to cross into Lithuania after seeking the help of an artist from Iceland who secured her travel documents.
Comparing her story to a "spy novel", Ms Alyokhina told The New York Times: "I was happy that I made it, because it was an unpredictable and big kiss-off to the Russian authorities.
"I still don't understand completely what I've done."
Ms Alyokhina added: "I don't think Russia has a right to exist anymore.
"Even before, there were questions about how it is united, by what values it is united, and where it is going. But now I don't think that is a question anymore."
'He knew what freedom costs': Zelenskyy pays tribute to first president of independent Ukraine
Ukrainian President Volodymyr Zelenskyy used his nightly address to pay tribute to Leonid Kravchuk, the first president of an independent Ukraine who died Tuesday aged 88 (see 8.47pm post yesterday).
He said Mr Kravchuk knew how to get the country to listen to him – something that was particularly important in "crisis moments when the future of the whole country may depend on the courage of one man".
"He was the man who knew how to find wise words and say them so that all Ukrainians could hear them," he said.
"As a child he survived World War II, survived the occupation. Leonid Makarovych knew what freedom costs. And with all his heart he wanted peace for Ukraine. I'm sure we will implement it. We will achieve our victory and our peace."
Mr Zelenskyy also thanked the US House of Representatives for approving further financial support for the country.
The package includes $23.4bn in military assistance and could be passed as soon as tomorrow